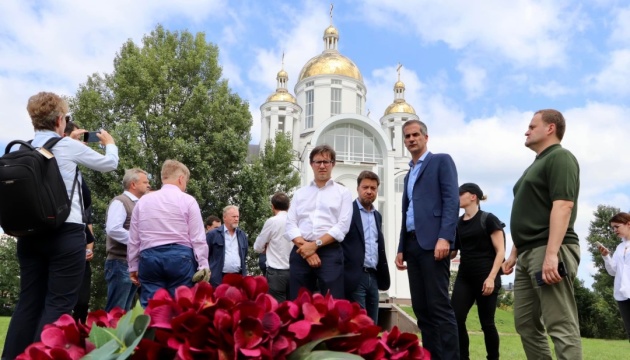 EUROCITIES delegation visits Bucha, Irpin
A delegation of EUROCITIES – the network of large cities in Europe – visited Bucha and Irpin towns in Kyiv region.
"Bucha Mayor Anatoliy Fedoruk emphasized during the meeting at the Church of Andrew the First-Called that cooperation and support of the international organization that unites large European cities is important for Ukrainian cities and towns. Because colleagues from European municipalities know very well how difficult it is to maintain, let alone restore the destroyed property," Bucha Town Council posted on Facebook.
According to the official, most of the European municipalities have sister cities in Ukraine and support the residents, providing humanitarian assistance and supporting those who have temporarily left the country.
Fedoruk also told the delegation about the terrible tragedies that the town and its residents experienced during the period of occupation, atrocities of the Russians, torture and execution of the civilian population.
"Many difficult challenges must be overcome by restoring damaged houses and infrastructure facilities. And here, cooperation on a city-to-city platform can be timely support," the official said.
"Eighteen representatives of the Eurocities network of European cities visited Irpin today. These people will convey the truth to Europe about what the Russian army is turning Ukrainian cities into. And I am sincerely grateful to them for that. Europe should remember the war is near every day and understand that it can come to European countries at any moment," Irpin Mayor Oleksandr Markushyn posted on Telegram.
Currently, EUROCITIES unites the local self-governments of more than 140 large cities in more than 30 European countries.
ol