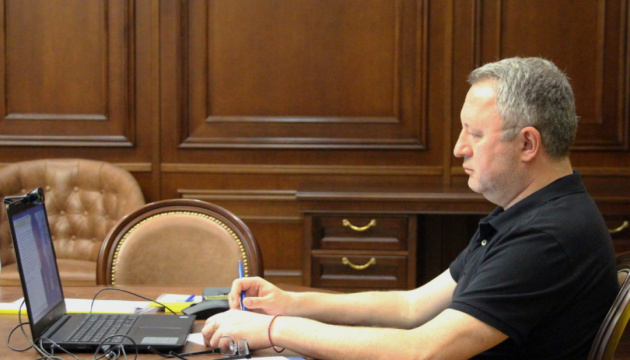 Prosecutor General discusses cooperation in war crimes probes with Eli Rosenbaum
Prosecutor General of Ukraine Andriy Kostin held a conversation with Eli Rosenbaum, US Department of Justice Counselor for War Crimes Accountability.
Kostin thanked Mr. Rosenbaum and US Attorney General Merrick B. Garland for their willingness to provide practical advice and share expertise in the investigation into war crimes, the press service of the Prosecutor General's Office informs.
"We are very grateful to every international expert who helps with the investigation. Visits of foreign partners and experts to Ukraine are a signal of solidarity and a display of courage. Now it is important to synchronize international assistance so that the work of each specialist will be useful for the investigation and bring us closer to the result – the punishment of war criminals and compensation for damages," Kostin emphasized.
The Prosecutor General noted that more than 28,000 criminal proceedings over war crimes had already been opened in Ukraine, in which 138 people had been served with notices of charges. Moreover, there are 624 suspects among the military and political leadership of the Russian Federation in the main case of the crime of aggression.
Despite the experience of investigating war crimes since 2014, Ukrainian prosecutors and investigators have not faced such large-scale and complicated proceedings before. That is why, according to Kostin, the practical experience of forensic specialists, prosecutors and experts specializing in international crimes will be useful. Among the priority areas of joint work are the investigation into war crimes, consultations on the confiscation of assets and the creation of a compensation mechanism for the benefit of Ukraine and the victims, advice on cyber security and the investigation into ecocide crimes.
"Our constant exchange of knowledge and information regarding the investigation into ecocide can be useful not only for Ukraine but also for the development of standards for the investigation into this type of crime at the international level," the Prosecutor General emphasized.
Eli Rosenbaum conveyed the words of sincere support for the Ukrainian people from the US Attorney General. He also added that Ukraine had the full support of the United States in bringing to justice those who committed war crimes and was ready to provide all necessary assistance to punish those guilty.
The parties agreed to continue close cooperation in a working format.
As reported, Prosecutor General Andriy Kostin discussed the use of mechanisms to restore justice in the international arena with Ban Ki-moon and Juan Manuel Santos Calderón – the representatives of The Elders independent group of global leaders.
Photo credit: Prosecutor General's Office
ol