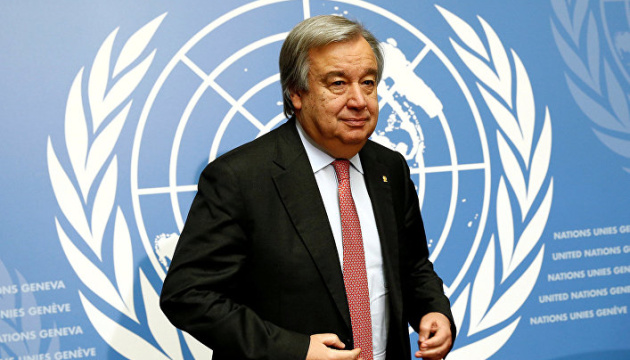 Guterres in Ukraine: Grain exports, Zaporizhia NPP, Olenivka probe on agenda
UN Secretary General Antonio Guterres at a Lviv meeting with President of Ukraine Volodymyr Zelensky and Turkish President Recep Tayyip Erdogan on Thursday will discuss grain exports, tensions over the Zaporizhia NPP, and the tragedy in the Olenivka prison.
That's according to Deputy Spokesman for the UN Secretary General, Farhan Haq, who spoke with journalists on Wednesday, Ukrinform's own correspondent in New York reports.
He added that the UN Secretary General is making every effort, interacting with various authorities, to lower the "temperature" as much as possible.
As for Guterres' planned trip to Odessa, according to Haq, its logistics are yet to be finalized.
At the same time, he noted that "the point of the Odesa trip is to see the workings of the port of Odesa and see how the ships are able to depart as part of the follow up to the deal that he, as you know, initiated with Ukraine and Russia in April," the deputy spokesman added.
As Ukrinform reported earlier, Guterres arrived in Lviv on Wednesday. On Thursday, August 18, he will take part in a tripartite meeting with Zelensky and Erdogan.
The UN Secretary General will then travel to Odesa.
Before returning to New York, Guterres will come to Istanbul this weekend, where he is set to visit the Joint Coordination Center set up to implement the Initiative on the safe transportation of agricultural products from Ukraine.
On July 22, in Istanbul, Ukraine, Turkey, and UN Secretary General Antonio Guterres signed the Initiative on the safe transportation of grain and food products from the ports of Odesa, Chornomorsk, and Pivdennyi.
As of August 17, 24 ships carrying more than 600,000 tonnes of agricultural products departed from Ukrainian ports as part of the Initiative.