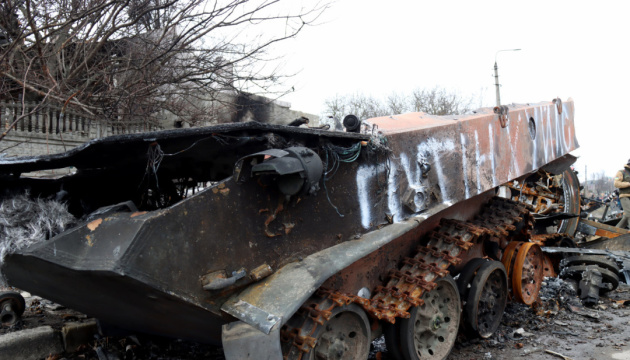 Russian army is no longer 'world's second' – Minister Reznikov
Despite the fact that Russians still have quite a lot of resources left in their warehouses, the Russian army is definitely no longer the 'world's second'.
The relevant statement was made by Ukrainian Defense Minister Oleksii Reznikov in an interview with Voice of America, an Ukrinform correspondent reports.
"It is definitely no longer 'the world's second army'. Indeed, they [Russians – Ed.] are great in numbers. They have a lot of resources in warehouses and arsenals. But, even these resources are already old. They are bringing even T-62 tanks to Ukraine," Reznikov told.
In his words, now Russia has accumulated about 115 combat-ready battalion tactical groups, of which 105 are used to replenish the combat capacity.
"In total, it is probably up to 135,000 troops in military terms. But, it is necessary to repeat once again that this is already a cocktail. There are mercenaries, pseudo-mobilized, students mobilized from the temporarily occupied territories of the CADLR, Rosgvardiya, and whoever. Plus military professionals," Reznikov noted.
According to Reznikov, Ukraine's nationwide plan is to fully de-occupy the Ukrainian territories seized by Russian troops and reach the borders internationally recognized in 1991.
"Not those of 2014 or 2015, and not those of February 24, 2022. The final story is Ukraine's victory and the restoration of territories within the borders of 1991," Reznikov stressed.
A reminder that, on February 24, 2022, Russia started a full-scale invasion of Ukraine. Russian troops are shelling and bombarding Ukrainian cities and villages, killing civilians.
mk