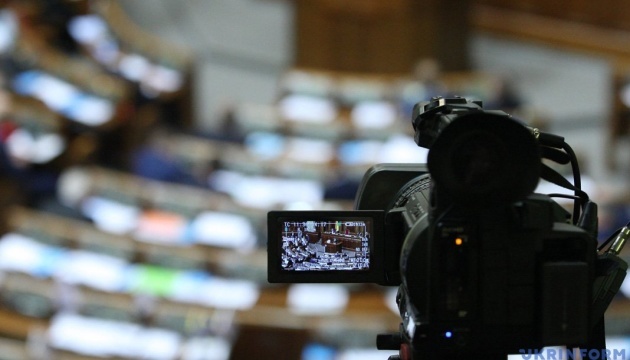 Parliament calls on world to sanction Russia's nuclear industry due to nuclear terrorism at Zaporizhzhia NPP
The Verkhovna Rada has called on the international community to condemn an act of nuclear terrorism that Russian forces are committing at the captured Zaporizhzhia Nuclear Power Plant in Enerhodar.
Some 301 MPs voted for a respective resolution at a parliament meeting on Monday, Yaroslav Zhelezniak, an MP of the Holos party, wrote on Telegram.
In particular, the Verkhovna Rada calls on the parliaments and governments of the member states of the International Atomic Energy Agency to recognize the actions of the Russian Federation regarding the occupation of the Zaporizhzhia NPP, its mining and shelling, which endangers the safe existence of the world, as an act of nuclear terrorism.
The Ukrainian parliament also calls on the United Nations, the European Union, the European Council, the Organization for Security and Cooperation in Europe, the IAEA to apply sanctions against the entire Russian nuclear industry, in particular, against Russia's state corporation Rosatom, the enterprises and organizations that are part of it, and their subsidiary companies both in Russia and abroad, and their managers.
The Verkhovna Rada asks the parliaments and governments of the member states of the International Atomic Energy Agency to appeal to the IAEA General Conference regarding the suspension of the privileges and rights of the Russian Federation as a member of the Agency, as well as depriving Russia of the right to vote at meetings of the IAEA Board of Governors and the opportunity to participate in technical cooperation programs, scientific and technical exchange and international research projects conducted under the auspices of the agency.
At the same time, the parliament appeals to the UN and the IAEA with a request to take the necessary measures to organize and send a joint security mission to the Zaporizhzhia NPP with the further demilitarization of the plant and the withdrawal of armed Russian military personnel and equipment from the plant and the entire surrounding area, including the city of Enerhodar.
Russian forces seized the Zaporizhzhia Nuclear Power Plant on March 4. During the capture, the industrial site of the plant was shelled with small arms and artillery systems of various calibers, as a result of which the systems and elements of the power units were damaged.
According to the Main Directorate of Intelligence of the Ministry of Defense of Ukraine, the territory of the Zaporizhzhia NPP was mined, and individual employees of the station are subjected to torture and violent actions by the invaders.
Over the past week, the Russian military has been actively shelling the Zaporizhzhia NPP.