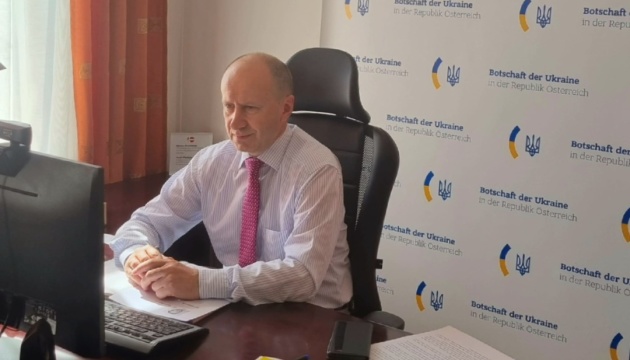 Austrian police "took steps" in relation to recent pro-Russian seminar on Ukraine - ambassador
The Federal Police of Austria took seriously the seminar on Ukraine, at which pro-Kremlin narratives were spun, and "took steps" to prevent such incidents from happening again.
That's according to Ukraine's Ambassador to Austria, Vasyl Khymynets, who spoke with APA, Ukrinform reports.
"I received a response that the Federal Police took this matter seriously and that certain steps have been taken to ensure that similar events don't take place in the future," the ambassador said, commenting on his recent talks with the chief of the Federal Police, Michael Takacs.
According to Khymynets, the two held a "very constructive" conversation, while the ambassador conveyed to his interlocutor the indignation that the Ukrainians experienced when they learned about the contents of the seminar on Ukraine, hosted by the Vienna Land Police Department.
It has been noted that the ambassador is still waiting for a response to the letter sent to the chief of Vienna Police Department, Gerhard Pürstl, in which the embassy stated the need for a public apology for the seminar at which Russian propaganda narratives were voiced, compromising Ukraine.
For its part, the Vienna police refused to provide APA with any information regarding their chief's response to the Ukrainian ambassador's letter. "The ambassador's letter was personally addressed to the head of the regional police in Vienna, and therefore the response was also sent to him personally," the agency said.
Memo. Recently, the Vienna police held an intra-departmental closed-door seminar "Ukraine in Focus of Different Perspectives," at which most of the speakers present spread a variety of traditional Kremlin narratives about Ukraine, essentially justifying the ongoing Russian aggression toward the Ukrainian state.