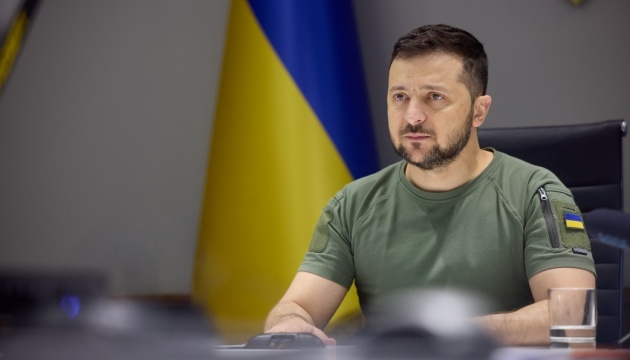 China has enough influence over Russia to stop the war - Zelensky
President Volodymyr Zelensky believes that the People's Republic of China has enough influence over the Russian Federation to help stop the war in Ukraine.
The Ukrainian president said this in an interview with The South China Morning Post, Ukrinform reports.
"China a very powerful state. It's a powerful economy … So it can politically, economically influence Russia. And China is [also a] permanent member of the UN Security Council," Zelensky said.
The Ukrainian president noted that since the beginning of Russia's large-scale aggression, he has not had any conversation with the leader of the People's Republic of China, Xi Jinping, although there was such an initiative from the Ukrainian side.
"I would like to talk directly. I had one conversation with [President] Xi Jinping that was a year ago," he said. "Since the beginning of the large-scale aggression on February 24, we have asked officially for a conversation, but we (haven't had) any conversation with China even though I believe that would be helpful," Zelensky said.
At the same time, he stressed that he understood China wished to maintain a "balanced" attitude towards the war, but that it was important to note the conflict was predicated upon Russia's unprovoked invasion of Ukrainian sovereign territory.
"The Russians are the invaders… This is a war on our territory, they came to invade. China, as a big and powerful country, could come down and sort of put the Russian federation [in] a certain place. Of course, I would really like China to review its attitude towards the Russian Federation," the Ukrainian president said.
Zelensky noted that he believes that China has economic levers to pressure Putin to end the war.
"I'm sure that without the Chinese market for the Russian Federation, Russia would be feeling complete economic isolation. That's something that China can do – to limit the trade (with Russia) until the war is over," he said.
According to Zelensky, the Russian government spends the additional funds received from high energy prices not on raising the standard of living of its citizens, but on "specific weapons which they use to fight against Ukraine".
"This is something that has to be stopped," he said.
The Ukrainian leader also recalled his recent warning about the war's long-term implications on global food and energy security. Zelensky said Chinese exports could be negatively affected by countries spending more on food, fuel and defence in the aftermath of the conflict.
"The people would have to pay for energy resources rather than for products coming from China … Exports from China would be decreasing. That's 100 per cent," he said.
The Ukrainian president also spoke about speculation that the Russian Federation, which is currently facing heavy Western sanctions across various sectors, is sourcing semiconductors from Asian countries outside the West's diplomatic ambit, to make weapons. Zelensky said Kyiv's intelligence services were "working as effectively as in China" and that his administration was well aware of which countries Moscow had approached for assistance in this regard.
However, Zelensky said he would not like to point fingers at these governments but rather focus on unifying them against Russia.
"I would like to concentrate on unifying the whole world against the tyranny in Russia, and not … undermine the unity by saying that one country is helping, the other is not," the Ukrainian president said.
As reported by Ukrinform, Zelensky previously called on the world to take an important step and designate the Russian Federation as a state sponsor of terrorism.