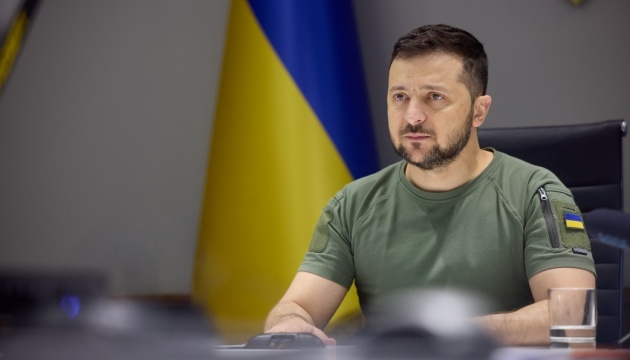 Zelensky: Terrorists claim responsibility for crimes they commit, while Russia has no courage to do so
Reports of Russian crimes committed during the war unleashed against Ukraine must not become a new norm for the rest of the world, otherwise it would mean that the world has changed for the worse.
That's according to Ukrainian President Volodymyr Zelensky, who addressed the Australian students and teachers, Ukrinform reports.
"Today is the 161st day of the full-scale war launched by the Russian Federation against Ukraine. Every day, the world is shocked by new reports about new Russian crimes. This should not become usual for the world. Because it will mean that the world has come to terms," said the president.
Many assumed and still assume that "it is necessary to act delicately and not to anger Russia," Zelensky recalled.
"Regarding Russia being able to 'save face.' By now it should be obvious to everyone – all this is of no importance. It is impossible to anger those who are mad. It is impossible to save face for someone who does not want it," stressed the president.
None of the Russian crimes committed in Ukraine must be forgotten, Zelensky emphasized.
The Ukrainian leader believes that "he who wants to save face does not erase peaceful cities and villages from the face of the Earth, does not fire at them with MLRS every day and every night, does not shoot at residential buildings with cruise missiles, does not fire cluster munitions or phosphorus bombs at residential areas (…), does not drop bombs on maternity hospitals and hospitals, kindergartens, schools, and universities, museums, theaters, and churches, does not direct artillery against cemeteries, and does not fire missiles at the memorial complex for the victims of the Holocaust - Babyn Yar."
The president believes that today's Russia "lost its face a long time ago."
The only difference between terrorists and Russia is that "the first take responsibility for their actions, while Russia does not have the courage to do so and has the audacity to blame others for its crimes – other countries and the whole world."
As Ukrinform reported earlier, Volodymyr Zelensky, while answering a student's question, called on China to join the united international position against Russia's tyranny.