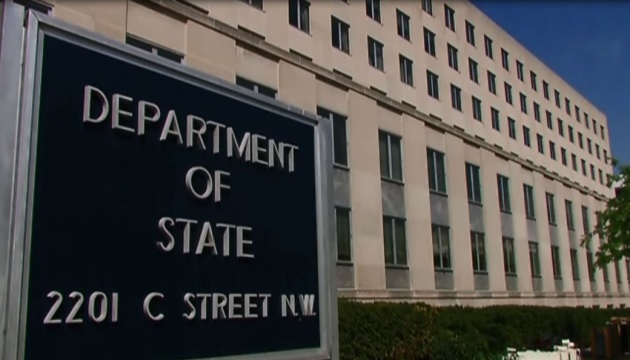 New annexation attempts by Russia to not go unpunished - U.S. State Dept
The latest comments by Russian foreign minister Sergei Lavrov testify to Moscow's plans to seize more Ukrainian territories and do not go in line with Russia's earlier claims about European security, which will eventually not go unpunished for Russia.
That's according to U.S. State Department Spokesperson Ned Price, who spoke at a briefing on Wednesday, an Ukrinform correspondent reports.
"These comments to us only further demonstrate that Russia is moving toward the annexation that we've warned about, and they serve as a reminder of the ultimate purpose and objective of Russia's illegal, unjustified war against Ukraine," Price said.
He noted that, despite what was heard from Russia in the run-up to the war, "this war is nothing more than a war of territorial conquest." This has nothing to do with European security, of which the Kremlin spoke prior to moving into Ukraine.
"We have been clear that annexation by force would be a gross violation of the UN Charter, and we would not allow it to go unchallenged. We would not allow it to go unpunished," the spokesperson said.
The official added that the U.S. would continue to stand with Ukraine in support of its sovereignty and in support of its independence and territorial integrity.
"And no state, however large, should be in a position to change international borders by force," said Ned Price.
He also noted that this week Vladimir Putin voiced another lie this week when he said that Russia and Ukraine were on the precipice of peace as recently as March, and it was Ukraine that walked away.
"We know that is untrue. We know that is a lie. And Foreign Minister Lavrov in his comments overnight, I think, has provided further evidence of the fact that these claims are entirely hollow," Price said.
He underlined that it has always been Ukraine that has sought to achieve a diplomatic resolution to the conflict.
As Ukrinform reported earlier, Russian top diplomat Sergei Lavrov in an interview with Russian media said that the Kremlin was changing the geography of its plans for the occupation of Ukraine after the West refused to halt supplies of long-range arms to Ukraine. Now Russia intends to seize not only the "DPR" and "LPR" but also Kherson and Zaporizhia regions, as well as a number of other territories.