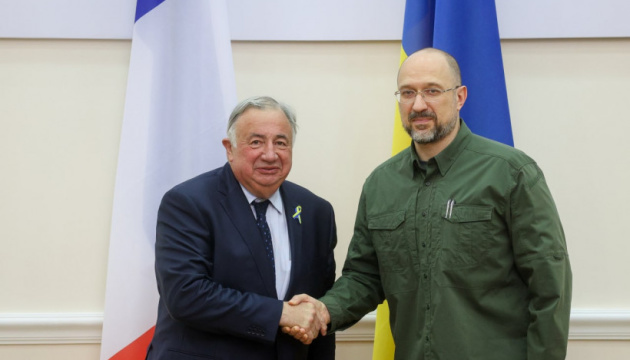 PM Shmyhal, French Senate President Larcher discuss Ukraine's role in European energy, food security
Support for Ukraine, energy and food security in Europe and the world were discussed during a meeting in Kyiv by the Prime Minister of Ukraine Denys Shmyhal and Gérard Larcher, President of the French Senate.
That's according to the government press service, Ukrinform reports.
It is noted that the head of the government thanked the French side for the support they provide to the country in all areas: from the supply of weapons, technologies, and military training to financial, humanitarian aid and sanctions.
"It is important that we are all on the same side. In addition to the military component, an essential tool for deterring russia is the sanctions policy. Grateful to France for supporting all six packages. It is necessary to apply the so-called secondary sanctions so that russia cannot adjust. Sanction packages should be constantly intensified, so we expect the next, seventh package," stressed Denys Shmyhal.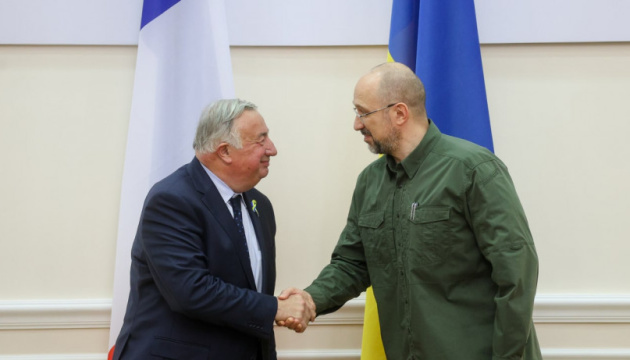 The prime minister of Ukraine emphasized that Russia continues to blackmail European countries with hybrid weapons like gas and oil. At the same time, PM added, Ukraine has one of the largest underground natural gas storages in Europe.
"I am convinced that we can find synergy for the use of our gas transmission system and storage facilities in order to increase the volume of transit for European countries," the head of government noted.
Denys Shmyhal emphasized, Ukraine is already part of the European energy market ENTSO-E, and is already exporting the first 100 MW of electricity within its framework.
"Ukraine is capable of supplying about 2,000 MW of electricity. This is a fairly powerful part of the electricity we can supply for the European Union, ensuring the stability of Europe's energy system," the Prime Minister noted.
Denys Shmyhal and Gérard Larcher also discussed Ukraine's needs for unblocking its seaports. The Head of Government accentuated the importance of conveying the truth to African and Asian countries that the alleged food crisis is a consequence of russia blocking Ukrainian ports, but not sanctions against the russian federation, as russian propaganda tries to distort the truth.
"Europe must be extremely consolidated - only in this way will it be possible to resist the hybrid impact of the russian federation," the prime minister emphasized.
Denys Shmyhal thanked France for supporting reforms in Ukraine. In particular, he noted that the decentralization reform was 100% justified, especially during the war: "Most heads of communities, heads of cities demonstrated power and resolve in the territories that were occupied, that are on the frontline. They stay with their communities, support people. Their role is growing every year. Decentralization is a reform that helps unite Ukraine."
The President of the French Senate expressed admiration and solidarity with the Ukrainian people who are resisting the aggressor. He assured that France will stand by Ukraine on the way to EU membership.