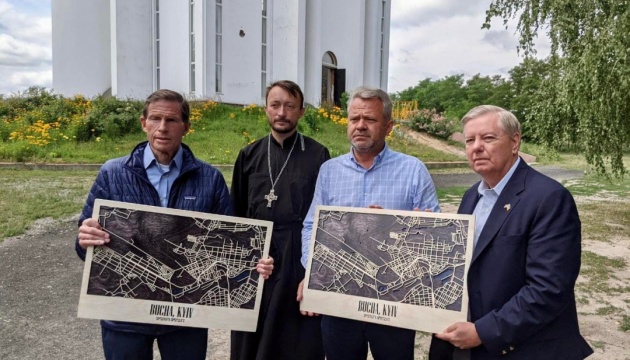 U.S. Senators Blumenthal, Graham visit Bucha
The United States Senators, Richard Blumenthal and Lindsey Graham, have visited the city of Bucha, Kyiv Region.
The relevant statement was made by Bucha City Council on Facebook, an Ukrinform correspondent reports.
"Today, the U.S. Senators, Richard Blumenthal and Lindsey Graham, who believe Ukraine should preserve its sovereignty and defeat Russians with the support of international partners, have paid a visit to Bucha," the report states.
As part of their visit, the senators discussed humanitarian and economic aid, and the renovation of the Bucha community liberated from Russian invaders.
"Reports on the shooting of civilians, tortures, rape, mass graves and photo exhibitions – all of this is evidence of the genocide against Ukrainians, which the Bucha community residents experienced under [Russian] occupation that had lasted for about a month," Bucha City Council noted.
A reminder that such settlements as Irpin, Bucha and Hostomel, and the entire Kyiv Region were liberated from Russian invaders in early April 2022.
mk