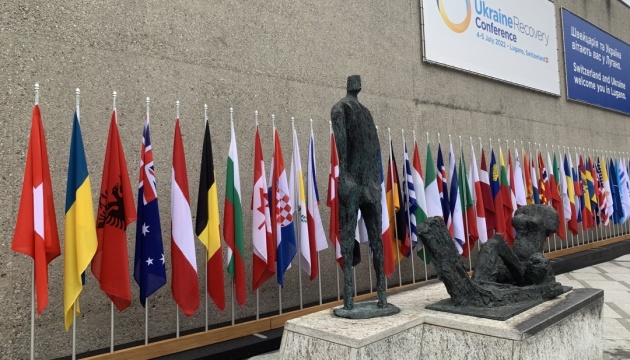 Ukraine recovery: Lugano Conference participants sign Outcome Declaration
Representatives of over 40 countries and about 20 international organizations have promised to support Ukraine on its path to recovery after the Russian armed aggression.
The relevant statement was made in the Lugano Declaration, which was endorsed as part of the Ukraine Recovery Conference held in the Swiss city of Lugano on July 4-5, 2022, an Ukrinform correspondent reports.
With this document, the Conference participants confirmed their full commitment to supporting Ukraine on its path to recovery at the initial stage and in the long run, and linked this with Ukraine's European perspective and EU candidate status.
The Conference participants intend to provide coordinated political, financial and technical assistance in this regard.
The draft Recovery and Development Plan, elaborated by Ukraine, was recognized as the main framework document guiding the recovery process, allowing for coordinated multi-stakeholder participation and partnerships. The Recovery and Development Plan is a living document which will need to
be consulted and adapted over time to reflect changing circumstances.
According to the Declaration, integrity, transparency and accountability are essential for the successful implementation of the National Recovery and Development Plan. The Conference participants stressed the importance of fair and transparent development finance, lending and borrowing practices in accordance with international rules, standards and recognized principles.
In addition, the Declaration welcomes innovative approaches to recovery, such as digital transformation, green energy transition, national and international innovative and sustainable financing, including harnessing possible reparations, contributions by private donors and the private sector.
The private sector, academia and civil society as well as actors at sub-national level, such as cities, hospitals and others, will be invited to enter into partnerships with Ukrainian counterparts.
The Conference participants reiterated their full support for the sovereignty and territorial integrity of Ukraine within its internationally recognized borders and for the respect for international law, including international humanitarian law. They condemned the Russian aggression and urged Russia to immediately withdraw its troops from the territory of Ukraine.
The Conference participants recognized that Russia's military aggression against Ukraine,
including deliberate targeting of civilians, had led to significant loss of life, catastrophic destruction of infrastructure, schools, hospitals, civilian housing and cultural heritage, an acute humanitarian crisis, profound economic and financial loss to Ukraine, and had destabilized global supply chains and threatened global food security.
According to Ukrainian Prime Minister Denys Shmyhal, all highly respected participants of the Conference supported the creation of a coordination platform between the Government of Ukraine and all bilateral and multilateral partners, organizations and international financial organizations for the preparation and implementation of the Recovery and Development Plan.
mk