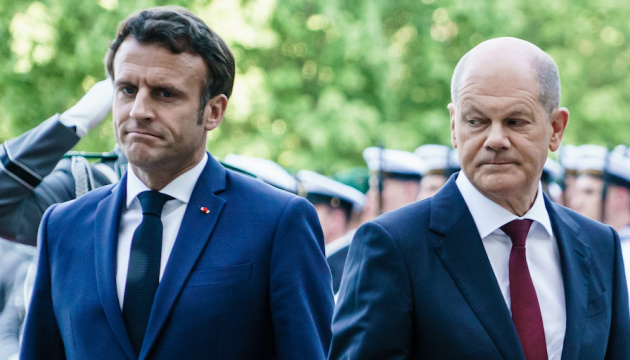 Macron, Scholz continue to coordinate positions on Russian war in Ukraine
French President Emmanuel Macron and German Chancellor Olaf Scholz continued "close coordination on the response to the war in Ukraine" during a working dinner in Paris Monday night.
Thus, the two leaders met a week after a private dinner held on June 25 on the occasion of the G7 summit in the Bavarian Alps, Ukrinform reports, referring to Le Monde.
During this Paris dinner, the two leaders returned to "the main current issues at the international, European and bilateral levels", the report says.
They were to discuss EU independence in "energy, defense, and strategic raw materials", as well as the situation in the Sahel and the next Franco-German Council of Ministers. "Such negotiations help build trust and deepen this trust," especially after the NATO and G7 summit in Elmau, said Chancellor's spokesman Steffen Hebestreit.
"There is a difference whether such interviews are conducted face-to-face or virtually," he added, answering a journalist's question about the feasibility of such a trip, rather than a video conference.
At the same time, Scholz thanked Macron for the invitation via Twitter, noting: "At the G7 meeting in Elmau, at the NATO summit, or here in Paris, it is good that we are in close contact on many pressing issues of today."
As Ukrinform reported, at the summit in Elmau, Scholz said that the G7 nations will stand by Ukraine in its fight against Russian aggression.
Photo: EPA