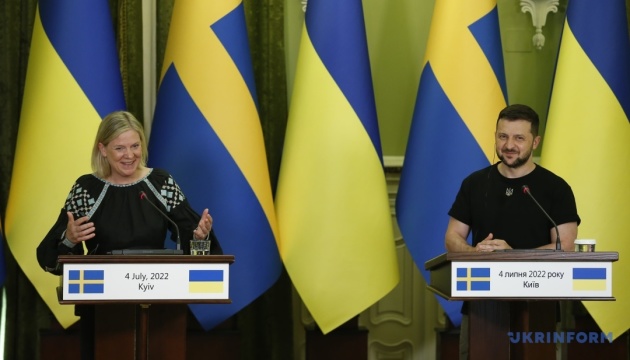 Ukraine, Sweden sign statement on cooperation in defense, energy sectors - Zelensky
Ukraine and Sweden have signed a joint statement on defense cooperation and sectoral cooperation in the fields of nuclear energy, energy efficiency, as well as financial support for Ukraine.
Ukrainian President Volodymyr Zelensky said this at a briefing with Swedish Prime Minister Magdalena Andersson in Kyiv on Monday, according to an Ukrinform correspondent.
"Today we approved a joint statement. This is the first document in the history of bilateral relations between our countries. The joint statement sets out key issues for both states. In particular, it concerns defense cooperation, sectoral cooperation in the fields of nuclear energy, energy efficiency, and financial support for Ukraine," he said.
According to Zelensky, the issue of developing tougher sanctions against Russia was discussed at the meeting with Andersson. Both parties also discussed the post-war reconstruction of Ukraine. Zelensky expressed hope that Sweden will join this process. He noted Sweden's experience in the field of energy saving, energy efficiency and implementation of the environmental agenda. Zelensky clarified that this concerns the issue of waste treatment. He invited Sweden to join the construction of waste treatment plants in Ukraine.
Zelensky also informed Andersson about the situation on the front line, existing threats and successes of the Ukrainian military.
Zelensky thanked Sweden for supporting Ukraine's efforts to join the European Union in the future, as well as for humanitarian aid and support for Ukrainian refugees.
Andersson is on a working visit to Ukraine. As part of her visit, she visited the towns of Bucha and Borodianka in the Kyiv region, earlier liberated from Russian invaders.