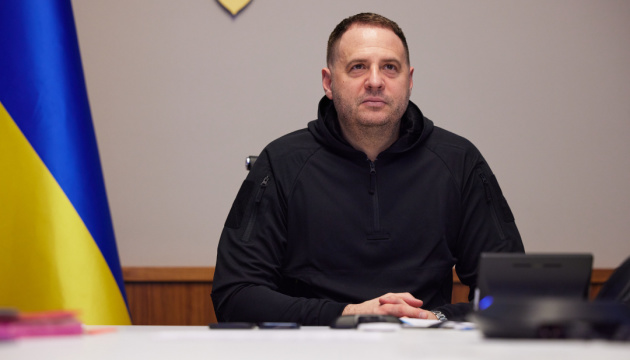 Blackmail, bloodshed and destruction are backbone of Russia's foreign policy - Yermak
Russia sees any talk of concessions or even negotiations as a weakness, with blackmail, bloodshed, and destruction being the backbone of Russia's foreign policy.
Andriy Yermak, head of the President's Office, said this in a speech at the NATO summit, Ukrinform reports, citing the President's Office.
He noted that Russia uses all terrorist methods, including mass murder, torture and destruction. Yermak also stressed that Russia has planned in advance the energy and food crises, which are already beginning to negatively affect all people on the planet. And all this is aimed at breaking the resistance of individual states and putting pressure on the world community, he said.
"Finally, the last argument is blackmail with nuclear weapons. However, Russia sees any talks of concessions or even negotiations as a weakness. Unfortunately, blackmail, bloodshed and destruction are the backbone of Russia's foreign policy," Yermak said.
He added that Russia is increasingly convinced that it cannot defeat Ukraine on the battlefield, so it is increasingly resorting to bloody terror - the killing of civilians and the destruction of civilian infrastructure.
"In recent days, hundreds of missiles have been fired at dozens of Ukrainian cities. Every day, tens of thousands of munitions of various types hit our residential neighborhoods, kindergartens, hospitals and power plants. This is done deliberately. The whole world now knows about the Ukrainian city of Kremenchuk, where the day before yesterday a Russian missile hit a regular shopping mall. There were about a thousand people inside. They were going shopping - women, children and the elderly," Yermak said.
He stressed that Russia's actions are classic terrorism on an incredible scale, unprecedented since World War II.
"They seek to destroy the Ukrainian state and erase from textbooks even mentions of the Ukrainian people. But we know for sure: if we give in today, they will go further tomorrow. After 2014, Ukrainians paid with their own blood to prove the axiom: Russia always violates the agreements it signs," Yermak added.
According to him, Russia follows ideologies and practices reminiscent of the worst dictatorships of the previous century.
"History has taught us that the aggressor's appetites grow with each concession. That is why the security of not only Europe, but also the whole of humanity is threatened. And we believe that if Russia is not stopped in Ukraine, NATO will inevitably be drawn into the war. In addition, the unpunished aggressor gives grounds for other criminals to build their own plans of aggression," Yermak said.
According to him, more and more politicians around the world believe that Russia should not win the war it has started against Ukraine. "This is good. But the point is that not everyone realizes that Ukraine must win this war. This is a guarantee that Russia will not 'be able to repeat' the same thing with any other country," he said.