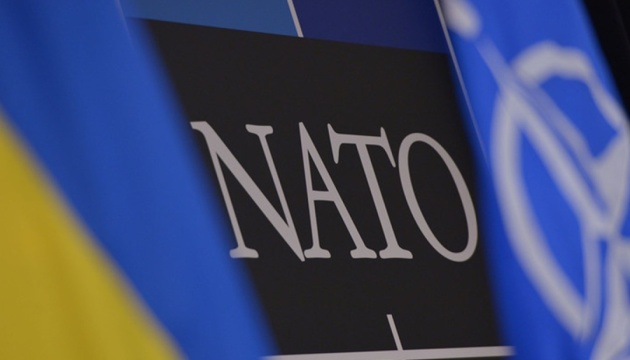 NATO's new Strategic Concept reaffirms ope-door policy for Ukraine
The decision NATO took at the 2008 Bucharest Summit and all subsequent decisions with respect to Georgia and Ukraine have been reaffirmed.
That's according to the text of the NATO 2022 Strategic Concept, seen by Ukrinform.
"We will continue to develop our partnerships with Bosnia and Herzegovina, Georgia and Ukraine to advance our common interest in Euro-Atlantic peace, stability and security. We reaffirm the decision we took at the 2008 Bucharest Summit and all subsequent decisions with respect to Georgia and Ukraine," the Concept reads.
The open-door policy, in line with Article 10 of the North Atlantic Treaty, has been reaffirmed.
"Our door remains open to all European democracies that share the values of our Alliance, which are willing and able to assume the responsibilities and obligations of membership, and whose membership contributes to our common security. Decisions on membership are taken by NATO Allies and no third party has a say in this process," the document says.
It is noted that "strong, independent Ukraine is vital for the stability of the Euro-Atlantic area."
During the 2008 Bucharest Summit, NATO leaders made a political decision that Ukraine and Georgia would once become members of the Alliance, and that the implementation of a Membership Action Plan should be a step in this direction.
The issue of Ukraine's membership in NATO has been the subject of active public debate against the background of Russia's aggressive policy and rhetoric towards Ukraine and the significant concentration of Russian troops on the borders with Ukraine and in the temporarily occupied territories.
In particular, one of the main points of the ultimatum issued by Russia before it invaded Ukraine on February 24 was NATO's public rejection of the Bucharest summit decision on future membership of Ukraine and Georgia, as well as written guarantees of non-expansion to the east, including to the countries of the former Soviet Union.
A NATO summit is taking place in Madrid on June 28-30. The Heads of State and Government are considering ways to strengthen deterrence and defense policies, and to develop the Alliance's defense capabilities in the new security environment following Russia's unprovoked invasion of Ukraine.
On Wednesday, NATO Heads of State and Government approved a new Strategic Concept for the Alliance.