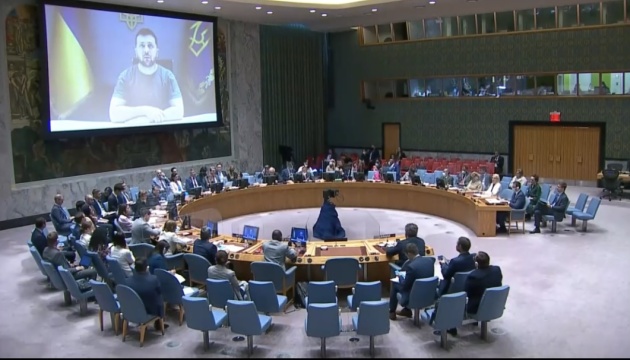 President Zelensky calls on UN to deprive Russia of its powers in General Assembly for violating the Charter
Ukrainian President Volodymyr Zelensky has called on the United Nations to deprive the Russian Federation of its powers in the UN General Assembly and the UN Security Council as a terrorist state.
The relevant statement was made by Ukrainian President Volodymyr Zelensky at the UN Security Council meeting in New York, focused on Russia's attacks against civilians in Ukraine, an Ukrinform correspondent reports.
"I urge you to deprive the delegation of the terrorist state of its powers in the UN General Assembly, and it is possible. Russia has no right to stay in the UN Security Council. And this path is not too thorny, as it may seem to some, if you show consistency and proper political will," Zelensky said, referring to the relevant articles of the UN Charter.
According to the President of Ukraine, the UN has enough powers to bring the terrorist state to justice. The UN Charter provides for the possibility of establishing a special international tribunal to investigate the crimes committed by Russian occupiers on the Ukrainian land.
"The word 'genocide' has been heard many times," Zelensky added.
The Head of the State mentioned that the UN Charter places the "primary responsibility for the maintenance of international peace and security" on the UN Security Council. At the same time, Article 6 of Chapter II of the UN Charter clearly reads: "A Member of the United Nations who has persistently violated the Principles contained in the present Charter may be expelled from the Organization by the General Assembly upon the recommendation of the Security Council".
"Although Russia violates the fundamental principles of the UN and the international legal order, it has not yet been held accountable precisely at the global level. It still remains in the UN structures and even enjoys the privileges of its chair as a permanent member of the UN Security Council," Zelensky stressed.
In his words, Russia has no right to participate in discussions and votes on the war against Ukraine, which is unprovoked and simply colonial on the part of Russia.
mk