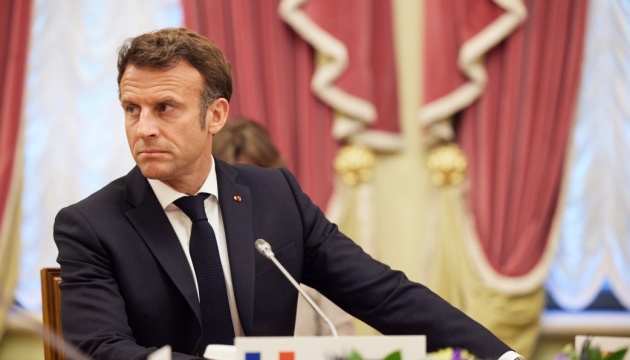 Macron doesn't see need for labelling Russia as state sponsor of terrorism
President of France Emmanuel Macron says there is no need for using the term "state sponsor of terrorism" in relation to Russia to impose sanctions on it.
"We condemn these war crimes, but we do not need any qualifications to impose these sanctions on Russia," Macron said during the final press conference of the G7 summit when asked about Russia as a "state sponsor of terrorism".
Macron underscored the intention to continue to support Ukraine.
"We will continue to support Ukraine and its people, there is no other way out," he said.
He added that "the situation is getting worse, but we continue to provide economic support."
Regarding arms supplies, Macron said: "We deliver weapons, equipment, ammunition so that Ukraine can defend itself on its own land and not attack another territory."
The French leader added that the partner countries would help Ukraine in its recovery. According to him, the "European platform will provide funding" for the reconstruction of Ukraine, and the relevant efforts will be organized within the G7.
"There is a question of recovery from this phase of the war, even if it is partial," Macron said.
The President of France once again praised the courage of the Ukrainian people and leadership in opposing Russian aggression.
As reported, on Tuesday, President of Ukraine Volodymyr Zelensky called on the United States to recognize Russia as a state sponsor of terrorism.
ol