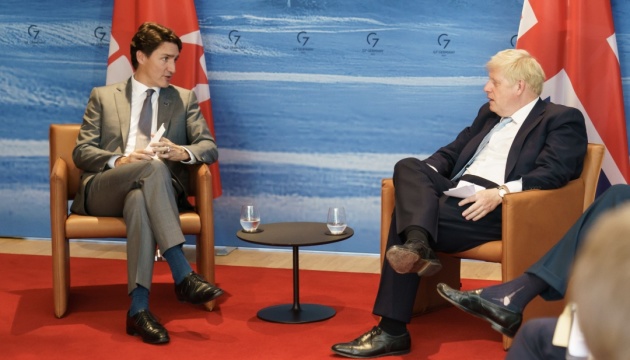 'Slava Ukraini! Heroiam Slava!': joint address by Johnson, Trudeau
In a joint video address to President Volodymyr Zelensky and the Ukrainian people, Prime Minister of Canada Justin Trudeau and Prime Minister of the United Kingdom Boris Johnson pledged their unwavering support for Ukraine in the face of Russian aggression.
The address was published on the Twitter account of Justin Trudeau, Ukrinform reports.
"Ukrainians have been standing up for the principles and the values ​​that bind us together as democracies: the rule of law, sovereignty, territorial integrity. The principles that matter to everyone in the world," Trudeau said.
He added that the G7 countries were working to increase sanctions against Russia, as well as to step up with economic, financial, and military support for Ukraine.
In turn, Johnson underscored the support of Canada and Britain for President Volodymyr Zelensky and the Ukrainian people.
"We salute your fight. We believe it is wholly, wholly legitimate and essential for our world. We support you and we will stay the course," he said.
In the end, the British PM said in Ukrainian: "Slava Ukraini! [Glory to Ukraine!]" Trudeau added: "Heroiam Slava! [Glory to the heroes!]"
As reported, the prime ministers of Great Britain and Canada take part in the G7 summit, which is held under the chairmanship of Germany in the Bavarian Alps on June 26-28.
ol