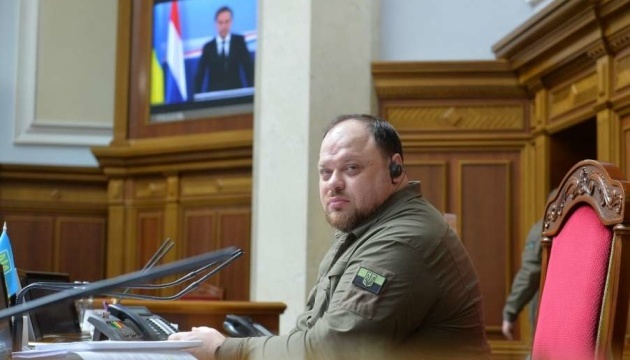 Ukraine needs to pass a hundred laws on European integration - Parliament chair
Ukraine is already working on drafting a series of bills required for the country's further European integration, and Parliament is set to adopt them soon.
That's according to Ruslan Stefanchuk, Chairman of the Verkhovna Rada of Ukraine, who addressed the issue on the air of the national telethon on Saturday, Ukrinform reports.
"We receive a number of the European Union directives, in accordance with which we need to pass our legislation. We are currently working on this set of bills - I believe there'll be about a hundred of them. I very much hope that the Verkhovna Rada will soon start implementing these legislative acts in Ukraine's legal field," the Rada speaker said.
According to Stefanchuk, now the relevant parliamentary committees are working with the relevant ministries to develop legislation drafts.
Also, Ruslan Stefanchuk stressed that, despite martial law, the Verkhovna Rada meets almost every week to pass bills, so, in his opinion, there should be no problem with the adoption of those related to the country's European integration.
At the same time, he said that the current convocation of Ukraine's Parliament had already adopted 81 pieces of legislation related exclusively to European integration, calling it an "absolute record."
As reported, the heads of state and government of the European Union on June 23 approved a decision to grant Ukraine the status of a candidate for EU membership.
President Volodymyr Zelensky assured that, despite the ongoing war waged by Russia, Ukraine will continue to implement the EU laws, norms, and rules, while the Cabinet of Ministers will develop an appropriate roadmap to meet the requirements of accession to the EU.