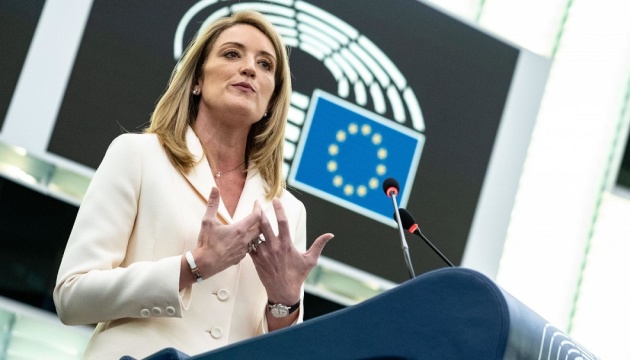 Candidate status will strengthen both Ukraine and EU - Metsola
The European Parliament has been vigorously advocating the opening of a European perspective for Ukraine, so the decision to grant it EU candidate status will strengthen both Ukraine and the EU.
European Parliament President Roberta Metsola said this at a press conference in Brussels on Thursday following her participation in the meeting of EU heads of state and government, according to an Ukrinform correspondent.
"We will not go back to the world before February 24. We will only go forward to Europe that values its geopolitical and security situation. If there ever was a time for more Europe, this is the moment. The decision to grant Ukraine candidate status is the right one. It will strengthen Ukraine and it will strengthen Europe. It is a decision for freedom and democracy, and it puts us on the right side of history," she said.
She noted that the decision to give a European perspective to Ukraine, Moldova and Georgia is truly historic. The European Parliament was among the first to call for such a decision to be taken. A few hours ago, the European Parliament overwhelmingly voted for a resolution to open the EU's door to the three countries.
"We also talked [with EU leaders] about the speed with which the European Union has acted, about its unity and resolve in the past few months. That resolve needs to be kept up," Metsola said.
On June 17, the European Commission issued opinions on EU membership bids from Ukraine, Moldova and Georgia. According to the opinions, Ukraine and Moldova have received a European perspective and a recommendation to obtain EU candidate status, with a list of steps to be taken. At this stage, Georgia has received only a European perspective, which is a recognition of the country's clear path to European integration.