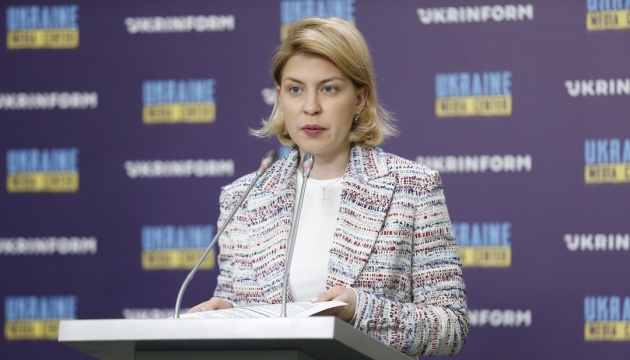 Deputy PM Stefanishyna: Ukraine may get EU candidate status tomorrow evening
Ukraine expects that a decision to grant the EU candidate status will be approved at the European Council summit on the morning of 24 June, supposing it will be made on the evening of June 23.
"We expect that such a decision will be approved on the morning of June 24. Given the high level of consensus that exists at the moment, it is possible that such a decision will be made tomorrow evening," Deputy Prime Minister for European and Euro-Atlantic Integration of Ukraine Olha Stefanishyna said at a briefing at the Media Center Ukraine–Ukrinform.
Stefanishyna noted that almost all EU leaders had confirmed the consensus on granting Ukraine candidate status.
In this regard, she stressed that the Ukrainian authorities were already preparing to meet the conditions set out in the conclusion of the European Commission. In particular, Ukraine elaborates a roadmap for the implementation of the European Commission's recommendations, which will soon be presented and approved by President Volodymyr Zelensky.
"We hope and expect that tomorrow and the day after tomorrow the leaders of the European Union will not only grant Ukraine candidate status, but will also clearly determine that we are moving towards membership in the European Union and will apply financial and economic mechanisms to the country to become a EU member state," the official noted.
She stressed that the candidate status, in addition to being an important political signal, gives Ukraine a completely different status in relations with the EU. In particular, it is about access to the EU structural funds which, according to Stefanishyna, are completely disproportionate compared to what Ukraine had before: "Today we are talking about hundreds of billions of euros that will be available to us after obtaining this status."
As reported, on June 17, the European Commission published its conclusions on the applications for accession to the EU filed by Ukraine, Moldova, and Georgia and made a recommendation to grant the first two candidate status. The European Council is due to consider the issue and make a final decision at the summit on 23-24 June.
ol