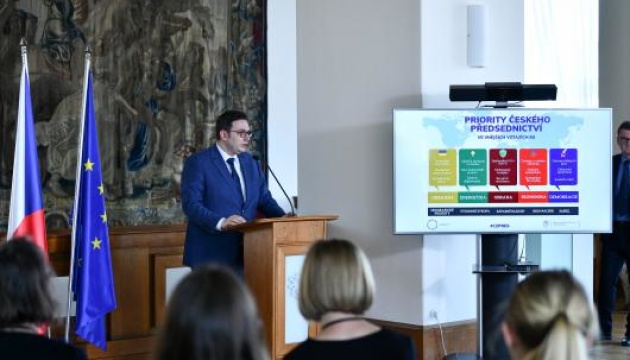 Support for Ukraine to be priority of Czech Presidency of Council of EU
The Czech Presidency of the Council of the EU will focus on five foreign affairs priorities: Ukraine, energy, defense, economy, and democracy.
Minister of Foreign Affairs of the Czech Republic Jan Lipavský presented the priorities of the Czech Republic's Presidency of the Council of the EU in the second half of 2022 on June 21, Ukrinform reports.
As underscored on the Ministry's website, "support for territorial integrity, post-war reconstruction, and aid for Ukraine will be essential priorities for the Czech Presidency external relations, seen in examples such as Ukrainian refugee housing, organizing a conference on reconstruction, or securing sufficient support for Ukrainian EU candidacy."
The Czech Presidency will further focus on energy and the economy. The goal of the Presidency will be to gradually end energy dependence on Russia and secure alternative energy providers.
"Besides energy, we want to focus on newer industries, namely green diplomacy. Climate protection is a common Western matter today, and Europe cannot ignore it in future planning," said the head of Czech diplomacy.
As Lipavský noted, the Kremlin's actions have shown that we must increase defense spending and cooperation among the EU and NATO and other foreign partners in fields like cybersecurity and hybrid threats.
Moreover, the Czech Presidency will focus on supporting civil society, democracy, independent media, and strengthening the international sanctions regime. Within European foreign affairs, Czechia will through its Presidency assert political unity against Russia, revision of the eastern neighborhood policy, and promote EU expansion into the Western Balkans, Ukraine, Moldova, and Georgia.
The task for the Czech Presidency will be to lead Europe through the current complicated times triggered by Russian aggression against Ukraine, inflation, and the pandemic's aftermath.
"In just a few days, Czechia will take over its historical second presidency for the Council of the EU. For our foreign policy, it will be one of the most important events in the last several years, and I personally feel the responsibility that in these turbulent times we will form the EU's foreign affairs," stated Lipavský.
Photo: © MZV ČR / MFA CZ
ol