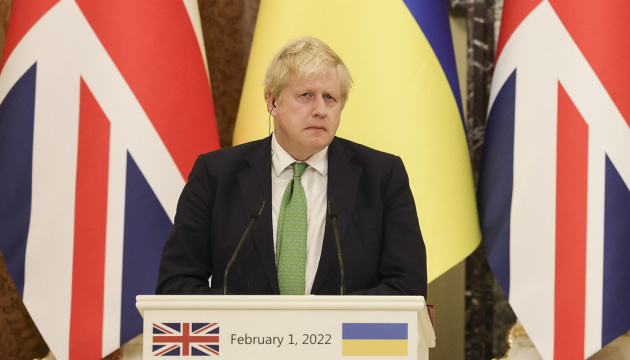 Johnson predicts long war with Russia, offers West a plan to support Ukraine
British Prime Minister Boris Johnson has called for long-term support for Ukraine amid a protracted war with Russia.
He said this in an article for The Sunday Times, Ukrinform reports.
Johnson believes that Putin will not have the wisdom to back down and he may still think that a complete conquest of Ukraine is possible.
"I am afraid that we need to steel ourselves for a long war, as Putin resorts to a campaign of attrition, trying to grind down Ukraine by sheer brutality," the prime minister wrote.
He stressed that Britain and other allies must ensure that Ukraine has the strategic resilience to survive and ultimately win.
"Time is the vital factor. Everything will depend on whether Ukraine can strengthen its ability to defend its soil faster than Russia can renew its capacity to attack," Johnson wrote.
Meanwhile, Ukraine's Western partners must fulfill four points in order to help Ukraine survive and seize the initiative, Johnson said.
First, the West must provide Ukraine with all the necessary weapons, ammunition, equipment and training. Britain plans to train about 10,000 Ukrainian soldiers every 120 days, equal to the number of Ukrainians who received military training in the seven years before the large-scale invasion.
Second, the West must help Ukraine maintain the stability of its government institutions with financial assistance, as the Ukrainian government must keep social infrastructure, pay wages and pensions, and finance the reconstruction of destroyed buildings.
Third, it is necessary to provide land routes for the export of Ukrainian food, especially grain, in order to maintain revenues in the Ukrainian economy.
Fourth, Britain, together with its allies, must unblock Ukraine's seaports and help immediately export 25 million tonnes of wheat and corn, which the world's least developed countries need.
"And all serve one objective. We must strengthen the hand of our Ukrainian friends to finish this war on the terms that President Zelensky has laid out. That should be the definition of success," Johnson said.