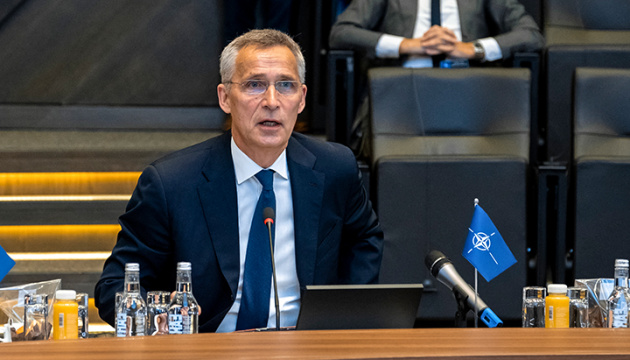 Stoltenberg hopes Zelensky will attend NATO summit in Madrid
NATO allies will welcome the personal participation of Ukrainian President Volodymyr Zelensky at the NATO summit in Madrid, but they are also ready to listen to the Ukrainian leader's address via videoconference if his personal presence is not possible.
NATO Secretary General Jens Stoltenberg said this during a press conference before the meeting of defense ministers of NATO member states in Brussels on Wednesday, according to an Ukrinform correspondent.
"President Zelensky will be invited to the NATO summit in Madrid to address all the leaders when we meet together at the end of the month. He is, of course, welcome to come in person if that is possible for him. He will also address by videoconference, by VTC. We will very much look forward to President Zelensky addressing all our allied leaders. These leaders are extremely committed to support Ukraine and also to express their solidarity and also to demonstrate that solidarity not only in words but also in deeds," Stoltenberg said.
He recalled that Zelensky had already addressed the participants in the NATO summit in March and would be able to do so again in two weeks' time during the NATO summit in Madrid.
When asked whether the consideration of Ukraine's application for EU membership is a sufficient reason to return to Ukraine's application for NATO membership, Stoltenberg said that NATO's main priority now was to help Ukraine repel Russian aggression.
"Ukraine is an aspirant for NATO membership. Our focus now is to help them in the fight against the brutal Russian invasion, to help them with practical support, with lethal and non-lethal aid from NATO allies and NATO, and also to help Ukraine to continue to modernize its armed forces -- something NATO allies have worked on for many years but stepped up now, including the transition from Soviet-era equipment to modern NATO equipment. This is our focus and I think the most urgent need in our relationship with Ukraine," Stoltenberg said.
The NATO summit will be held in Madrid on June 28-30. It will address current challenges to European and Euro-Atlantic security, primarily the consequences of Russia's aggressive war against Ukraine, as well as ways to further transform the military alliance. Allied leaders will adopt a new NATO Strategic Concept.