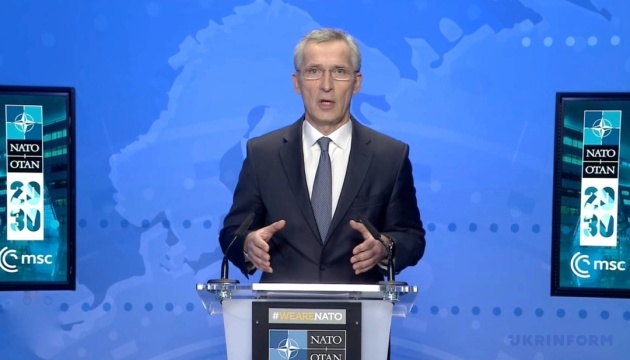 Stoltenberg reaffirms invitation for Zelensky to Madrid Summit
NATO Secretary General Jens Stoltenberg reaffirmed his invitation for President of Ukraine Volodymyr Zelensky to take part in the Alliance's Madrid Summit.
"In two weeks, Allies will meet for a historic and transformative Summit in Madrid. And take decisions to keep NATO strong in a more dangerous world. Tonight we had an excellent discussion on our preparations. Including on the need to continue our strong support for Ukraine. Both in the short term. But also over the longer term. And I look forward to welcoming President Zelenskyy to address NATO leaders at our Summit in Madrid," NATO Secretary General Jens Stoltenberg said at a press conference following a meeting of leaders of seven NATO Allies on June 14.
He noted that in response to Russia's invasion, NATO reinforced its ability to protect and defend every inch of NATO Allied territory.
NATO Madrid Summit will be held on 28-30 June to address current challenges to European and Euro-Atlantic security, ways to further transform the Alliance, and adopt a new strategic concept.
ol