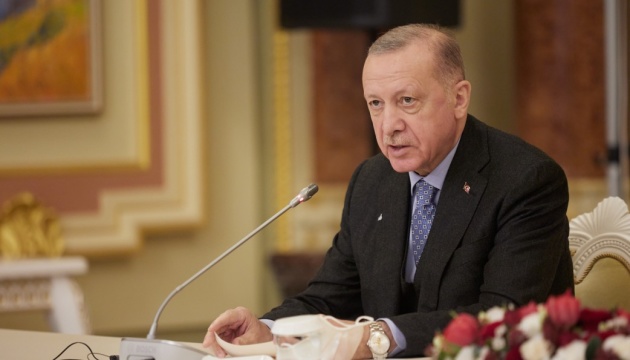 Grain exports: Erdogan announces new talks with Zelensky and Putin
Turkish President Recep Tayyip Erdogan has announced talks with Ukrainian President Volodymyr Zelensky and Russian President Vladimir Putin to discuss steps to establish exports of Ukrainian grain.
Erdogan said this in Van on Sunday, June 12, Ukrinform reports, citing Haber Türk.
"My fellow ministers held talks. We will be in the process of sending goods not only to ourselves but also to third countries to bring this business to a different dimension. These talks are taking place. Next week, we will meet with both Putin and Zelensky and discuss what steps we will take," Erdogan said.
According to him, now the world is in an economic stalemate, and non-supply of agricultural products is a serious problem.
As was reported earlier, Turkish Foreign Minister Mevlut Cavusoglu told a news conference on June 8 after meeting with Russian Foreign Minister Sergei Lavrov that the UN was proposing a four-way mechanism to export grain and other agricultural products from Ukraine's ports. The UN proposes to create a four-way mechanism involving the UN, Russia, Ukraine and Turkey. If demining is not possible, it is necessary to create safe corridors.