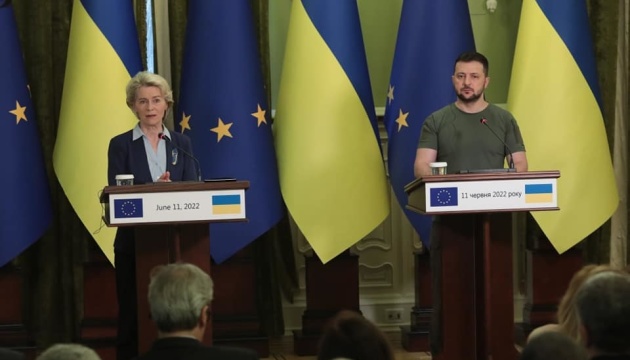 Decision on Ukraine's membership will be crucial for the EU as well, says Zelensky
President Volodymyr Zelensky of Ukraine believes that the decision on Ukraine's membership in the EU will be important both for his country and for the European Union.
He stressed this during a joint press conference with European Commission President Ursula von der Leyen in Kyiv on Saturday, an Ukrinform correspondent reports.
"Now is, of course, a crucial time not only for Ukraine but also for the European Union, for the entire European continent. It is now being determined what the future of a united Europe will be and whether there will be a future at all. Russia wants to destroy European unity, it wants to leave Europe divided, and it wants to leave it weak. The whole of Europe is a target for Russia. We are convinced that Ukraine is only the first stage in this aggression and in these plans. That is why the positive response of the European Union to Ukraine's application for membership could be a positive response to the future of the European project in general," Zelenskyy said.
The Ukrainian leader stressed that the Ukrainian people had already made an extremely high contribution to the protection of common freedom and common values shared ​​with the EU. Thousands of lives have been sacrificed for the possibility to live as a free person in Ukraine and throughout Europe. "During such a brutal war, state and public institutions of Ukraine remain stable, our people are fully integrated into the European space," he said.
The head of state added that in a very short time, Ukraine had provided comprehensive answers to a questionnaire from the EU, so now it expects answers from the European Union.
He noted that he was very glad to see President of the European Commission Ursula von der Leyen in Ukraine again. "The fact that this is the second visit to Ukraine in two months speaks for itself," Zelensky said.
As reported, European Commission President Ursula von der Leyen arrived in Kyiv Saturday, June 11, to meet Ukrainian President Volodymyr Zelensky and discuss Ukraine's progress toward EU membership.
A meeting of the European Council is to take place in Brussels on June 23-24. One of the issues will be Ukraine's application for EU membership and a decision on granting our country the status of a candidate country.