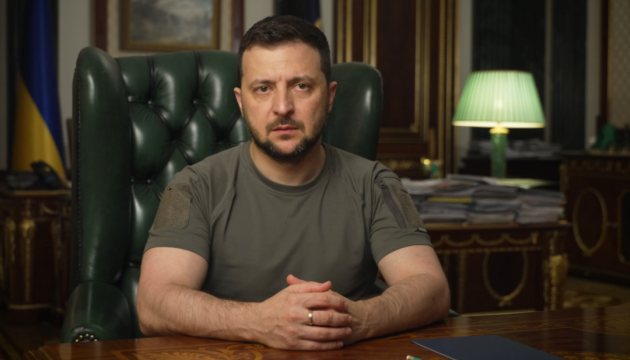 President Zelensky: Russia violated about 400 international treaties since 2014
The Russian Federation has violated about 400 international treaties since 2014.
The relevant statement was made by Ukrainian President Volodymyr Zelensky in his video address to the participants of the Copenhagen Democracy Summit, an Ukrinform correspondent reports.
"The word is always the basis of the law. This is always the basis of the treaty. Conventions, statutes, declarations and, of course, memoranda. During the Russian war against Ukraine alone – and it has been going on, I will remind you, not since February 24, but since 2014 – Russia has violated about four hundred different international treaties to which our states are parties," Zelensky told.
In particular, this refers to the UN Charter; UN Convention for the Suppression of the Financing of Terrorism; UN Convention on the Prevention and Punishment of the Crime of Genocide; Corpus of conventions governing the laws and customs of war; International Convention for the Protection of All Persons from Enforced Disappearance; Convention for the Protection of Cultural Property in the Event of Armed Conflict; UN Convention on the Elimination of All Forms of Racial Discrimination; UN Convention on the Law of the Sea.
"From key global documents we can move to fundamental ones for Europe. The Russian state violated: CSCE Final Act 1975; European Convention for the Protection of Human Rights and Fundamental Freedoms; Statute of the Council of Europe," the President of Ukraine noted.
In this regard, the Head of the State also mentioned the Budapest Memorandum. Having violated the Budapest Memorandum, Russia put an end to the entire struggle for nuclear disarmament in the world.
"What is the point of talking about nuclear disarmament now that Ukraine, whose third-largest nuclear arsenal has been taken away, has been attacked by a state that was among those who signed a pledge to refrain from aggression and still remains a nuclear state?" Zelensky stressed.
A reminder that, on February 24, 2022, Russia started a full-scale invasion of Ukraine. Russian troops are bombarding and shelling Ukrainian cities and villages, causing mass terror against civilians in the temporarily occupied areas.
mk