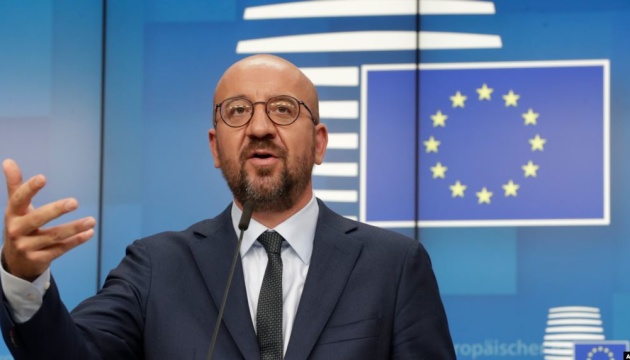 European Council President: Russia uses food as weapon and lies Soviet-style
Blockading grain exports via Ukrainian ports, Russia is using food as a weapon and disrupting global food security.
The relevant statement was made by President of the European Council Charles Michel at a plenary session of the European Parliament, related to the conclusions of the special European Council meeting of May 30-31, 2022, an Ukrinform correspondent reports.
"Russia is using food as a weapon of war, stealing grain, blockading ports and turning farmlands into battlefields. There are over 20 million tons of grain, wheat and corn stuck in Ukraine. This is disrupting global food security, driving up prices, and causing global famine," Michel said.
In his words, the EU leaders focused on the logistics solutions to get Ukrainian grain to global markets via alternative routes.
According to Michel, global hunger is everyone's business, so it requires a coordinated, comprehensive and global approach. The EU is working with the G7, the African Union and other partners to resolve this issue.
"In New York, a few days ago, I met with Secretary-General Guterres to discuss global food security and our common efforts to get the blocked grain out of Odesa. The Kremlin is weaponising food supplies and surrounding their actions with a web of lies, Soviet-style. We must join forces to call out these fabrications as pure fiction, particularly for the global South. These are Russian ships and Russian missiles that are blocking the export of crops and grain; Russian tanks, bombs and mines are preventing Ukraine from planting and harvesting," Michel stressed.
Michel noted that there are no EU sanctions on Russian agricultural products.
"And I say to all countries affected by this food crisis: don't be fooled by the Kremlin's propaganda, don't be instrumentalised by Russia," Michel emphasized.
Two days ago, Michel was at the UN Security Council to express European common commitment to condemn Russian atrocities and to reaffirm Europe's support for Ukraine.
"The Russian ambassador did not like what I said, and he walked out because he refused to look the truth in the eye. But we won't stop telling the truth. We won't stop acting to back Ukraine and to confront Russia with the facts," Michel told.
A reminder that more than 20 million tonnes of grain intended for exports is now blocked at Ukrainian ports due to the Russian armed aggression.
mk