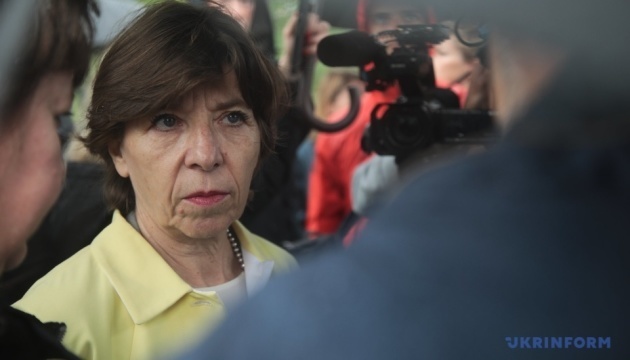 Colonna: France intends to increase its aid to Ukraine
French Foreign Minister Catherine Colonna has stated that her country intends to increase and continue in the long term its aid to Ukraine.
"It has been 100 days since Russia launched its aggression against Ukraine and the Ukrainian people. For 100 days, Russia has been continually and indiscriminately bombarding Ukrainian military forces and civilians. France stands in solidarity with the Ukrainian people in their suffering. It has done so not only since February 24, but since 2014, which saw the illegal annexation of Crimea and the eruption of the conflict in the Donbas. There can be no impunity whatsoever for the atrocities committed by Russian soldiers in Ukraine – in Bucha and other cities," reads the statement by Catherine Colonna, Minister for Europe and Foreign Affairs of France, on the 100th day of the war in Ukraine.
The minister noted that she had conveyed "a message of friendship and admiration to Ukraine and the Ukrainian people" during her recent visit to Ukraine.
"I reaffirmed France's unwavering support for Ukraine's sovereignty and territorial integrity, evidenced by the humanitarian, economic, financial, diplomatic and military aid France provides to that country, which we intend to increase and continue in the long term. The aid announced by President Macron now totals $2 billion, making France one of Ukraine's leading international supporters," the minister noted.
Ukraine is fighting for its sovereignty and its territorial integrity, the official stressed. "We must continue to make the cost of continuing this aggression unsustainable for Russia. France continues to urge Russia to abide by its international commitments, to end its aggression, and to withdraw its armed forces," Colonna added.
As reported, during the High-Level International Donor's Conference for Ukraine in Warsaw on May 5, Emmanuel Macron said that France would increase the total amount of its support for Ukraine to two billion dollars.
ol