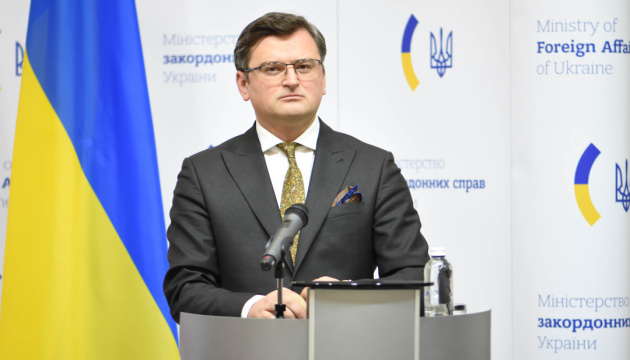 FM Kuleba: Providing Ukraine with weapons will not drag other states into war
Minister of Foreign Affairs of Ukraine Dmytro Kuleba underscores that providing Ukraine with weapons will not drag other states into the war unleashed by Russia.
Kuleba made a corresponding statement at a joint briefing with French Minister for Europe and Foreign Affairs Catherine Colonna in Kyiv, an Ukrinform correspondent reports.
Kuleba urged not to be receptive to the statements by Russian officials or some European politicians or intellectuals such as: "Do not give Ukraine any weapons, otherwise it will drag us into the war."
"Nothing will drag you into the war until your soldiers start fighting for us. And we, I will remind you, have never even asked your soldiers to fight for us. We know how to win. We know how to fight. Give us all the necessary weapons, and we will win, and no one in the world will be dragged into this war," Kuleba said.
The foreign minister stressed that Russia wanted no one to help Ukraine, so that Russian troops could kill as many Ukrainians as possible, seize as much territory as possible: "That's why they [Russians] are threatening everyone with terrible consequences for the support of Ukraine, but the truth is obvious."
On May 25, Kuleba said that Ukraine would not make concessions to Putin, because the strategy of pacifying him from 2014 to the beginning of the full-scale invasion had already failed and had no chance of success in the future.
ol