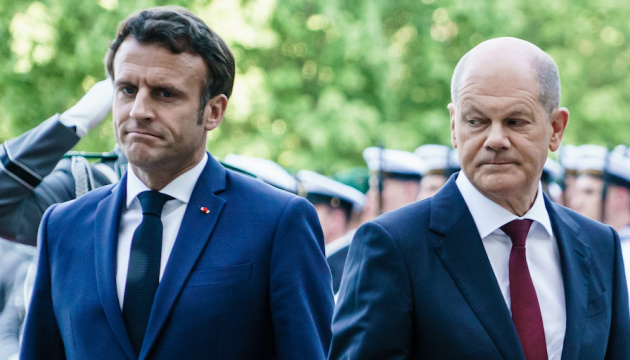 Macron, Scholz demand Putin release Mariupol's defenders
French President Emmanuel Macron and German Chancellor Olaf Scholz are demanding that Russian President Vladimir Putin release about 2,500 Ukrainian troops taken prisoner at the Azovstal steel plant in Mariupol.
The Elysee Palace reported this following Macron's phone call with Scholz and Putin, Ukrinform reports.
"The President of the Republic and the German Chancellor have demanded the release of some 2,500 defenders of Azovstal taken prisoner by the Russian forces," the statement said.
According to the statement, Macron and Scholz in talks with Putin also insisted on the urgency of lifting the blockade of Odesa in order to allow the export of Ukrainian grain through the Black Sea in order to avoid a world food crisis. "They took note of the Russian President's promise to grant ships access to the port for the export of grain crops without it being exploited militarily by Russia and if it was first cleared of mines," the statement said.
In addition, Macron and Scholz reiterated to Putin that any solution to the war must be negotiated between Moscow and Kyiv, with respect for the sovereignty and territorial integrity of Ukraine.
As was reported earlier, the Ukrainian military defended Mariupol for more than 80 days. The evacuation of Ukrainian defenders from the Azovstal plant, blocked by Russian invaders, began on May 16 and lasted for several days.
After the withdrawal of the Ukrainian military from Azovstal, they are waiting to be exchanged for Russian prisoners of war.