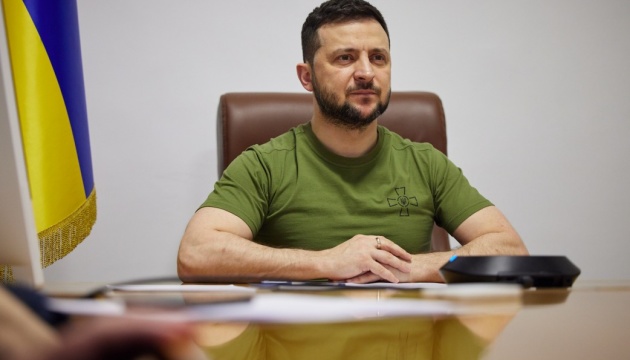 Zelensky to Stanford University community: Ukrainians and Americans equally understand the word 'freedom'
Ukrainian President Volodymyr Zelensky believes Ukrainians and Americans have become much closer: both nations equally understand the word 'freedom'.
The relevant statement was made by Ukrainian President Volodymyr Zelensky in his video address to the Stanford University community, an Ukrinform correspondent reports.
Ladies and Gentlemen,
Dear friends!
It is truly an honor to address your community for a second time - the Stanford University community - students, lecturers, all American men and women who care about Ukraine and empathize with our struggle for freedom.
I am grateful to you for your interest and for such a number of sincere and caring bright eyes that I see now, see today. I see people in front of me, people who are not in bulletproof vests, who are not in helmets and who are not in bomb shelters. There are no wounded by enemy shelling among you. I am very glad. Glad for you. And this meeting of ours cannot be interrupted by an air alarm signal, because California is not threatened by Russian missiles. But, unfortunately, this is not the case in Ukraine.
A lot has changed since last September, when I first visited Stanford during a visit to the United States. But on the other hand - much remains the same.
As I said then, Ukraine is a country where anything is possible. And so it was. But now the whole world knows that even what others have been afraid to think about for many years is possible in Ukraine.
Ukraine is a country that has destroyed the myth of the extraordinary power of the Russian army. An army that allegedly could conquer anyone it wants in a few days. But Ukraine is a country where the Russian army continues to wage a war it does not want to end. Now Russia is trying to occupy the whole country. But we feel strong enough to think about the future of Ukraine, which is and will be open to the world.
Between September last year and May this year, our society has endured so much that I would not wish on any other nation. And we still have a new path to go from May this year to, say, the new September.
I know that this path will be very difficult. Very painful. It will be a path on which young people won't look at university professors or their friends from a peaceful life, as you do. But at their comrades in the trenches. And at the enemies who can be seen in sight or on video from reconnaissance drones. But I also know that for Ukraine on this path there will definitely be a stage where peace will begin.
Now I use words that each and every one of you read and hear very often in the media, in books. "Struggle for freedom", "myth", "Russian army", "war", "survived", "trenches", "path", "peace". Each of these words seems to be immediately clear. But do you feel all their depth now?
Yesterday, Russian troops again shelled the largest city in the east of our country - Kharkiv. Using MLRS and special artillery called "Pion". This is heavy artillery - long range and powerful. It was with these weapons that the Russian army fired at ordinary residential areas of Kharkiv yesterday. Just houses. There was no military object there.
As a result of this and other shellings, 9 people were killed in Kharkiv yesterday. Peaceful inhabitants. A family with a small child, 5 months old, was also shelled. The father died. The child died. The mother is badly wounded.
We have been receiving such or similar messages for 93 days since February 24 and for 8 years since 2014. That's how it is in Ukraine.
Everyone who studies at Stanford is equally familiar with the question: what matters most to you and why? To study at your university, you need to write an essay in response to this question.
And I'm sure a lot of brilliant essays have been written over the years at Stanford. And I am sure that in the last 8 years there have been many brilliant students at your university. Apparently, among them were those who survived the war. And their answers to this question - what matters most to you and why - probably differed significantly from the answers of those who were lucky enough to live in peace.
And now I'm not talking about the quality of the text. I'm talking about the depth of the sense of words by a particular person.
After the start of the full-scale war, we are holding a special award ceremony in Ukraine for our defenders. Those who excelled the most. And who was awarded the title of Hero of Ukraine. As a special tribute, I present the Order of the Golden Star to the Heroes of Ukraine in the hall of the presidential residence where the highest officials of foreign countries visiting Ukraine - presidents and heads of government - were usually met. Or I give the Order to the Hero's relatives, if this title is awarded posthumously.
One of our pilots was recently awarded. Combat aviation pilot. One of the best. He died in the battles for Ukraine. When I gave his Golden Star to his wife, I expressed my condolences. Condolences that he passed away. And tears appeared in her eyes. She replied that he had not passed away. That he had been in the sky for 30 years. And now he remained in the sky. And tears appeared in my eyes. I felt that death did not conquer these people, this family. He remained in the sky. He is alive to her. And it will always be so in this family.
And all these words: "sky", "life", "death", "Hero" - for him, for her, for me, for you - they are different. With their depth. Although these words sound the same to us. And this depth, this distance in the feelings, in fact, weighs a lot today. It explains, for example, why even on the 93rd day of the war we are forced to talk about increasing sanctions on Russia, which will be enough for this country to finally start looking for peace, at least thinking about it. It explains why it is sometimes so long and difficult for us to negotiate with our partners about the supply of exactly the weapons needed to liberate our land. Although they want to help.
So for me, this question, on which you had to write an essay, feels different, a little different. Because, in fact, I have been answering this question for a very long time, more than 93 days, when I try to give my country everything it needs so that we can survive, defend our freedom and, in the end, win.
What matters most to me and why? I do not know whether the current presidents of a state fighting for its freedom have ever answered this question. But here is my answer. Pragmatic.
Weapons that will help overcome the technical and quantitative superiority of the Russian army.
Sanctions that will stop the flow of money for Russian terror.
Finances that will allow Ukraine to maintain social normalcy while the war continues.
Blockade and confiscation of all Russian assets in foreign jurisdictions that should be used to rebuild everything that this Russian army has destroyed.
A fair tribunal against all war criminals who killed, tortured, raped and deported our citizens.
Updated efficient security architecture that will prevent such new wars in the world.
And, of course, a complete restoration of normal peaceful life in our country. So that our people, our students, like you now, can communicate freely and in complete safety with the presidents of democratic states. So that Ukrainians, like you now, won't need to think where the bomb shelter is. And so that they will not need to know what the air alarm sounds like at all.
And I am grateful to all our friends in the world who make these words - and their depth - sound the same for everyone on whom decisions to help Ukraine depend.
Many Ukrainians have recently learned about one of our boys. A child from Mariupol, a city that was completely destroyed by Russian shelling. This little boy in the evacuation was very grateful to all those who sheltered his family and other residents of Mariupol. He really wanted to thank those who helped. He invited everyone to pay a visit to him. He said - come to us next summer, to Mariupol. And he says: yes, there is no more city... but the sea is left!
And this story is about life. Which is sure to win. And which matters most, in fact, for each and every one.
And this story is about a man who remains sincere and grateful even in the most terrible circumstances, because he is a free man.
And I believe that Ukrainians, having survived this war, will remain just that. Sincere, grateful and free.
And I'm sure that after this war, something will change in the relationship between you - the American people - and us. It is already changing. We became much closer in our feelings. We know for sure that we mean the same thing when we say the word "freedom."
When I returned to Ukraine last September, I was very encouraged. I thought about how much we could do together. But now I feel a similar uplift. Because I see your eyes and I believe that many of you will be in Ukraine and will help our reconstruction after the war, because this is the biggest project on the protection of freedom, in which your generation can take part.
Our cities are destroyed. Our sea is still blocked. But we remain free.
And finally. On February 24, a full-scale war against Ukraine began, when 18-year-old Russian guys, military men, entered our country and entered the homes of our people. To kill, torture, rape. It is difficult to understand - for what? Difficult.
And exactly three months later, on May 24, on the other side of the globe, in Texas, an 18-year-old guy entered a regular school to kill 19 children and 2 adults. It is impossible to understand at all. This is a tragedy.
And we live in a terrible time when Americans express condolences to Ukrainians over the deaths in war. And Ukrainians express condolences to Americans over the deaths in peace.
Please accept my condolences.
Every day you should not just ask yourself another question, but be sure to find the answer: who matters most and why? This is the main question for me: who matters most and why? Take care of yourself, your family, loved ones, friends. Take care of the world.
Thank you, America!
Glory to Ukraine!
Photo: Office of the President of Ukraine
mk