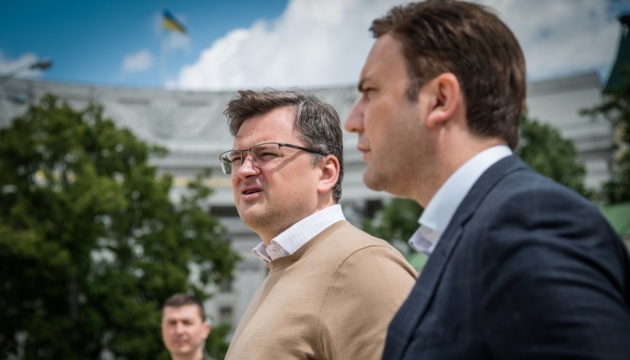 No indication of Russia's readiness for talks with Ukraine - Kuleba
Despite public statements by the Russian leadership, there is no indication of Russia's readiness to hold talks, and the facts show that the Russian president is ready to wage war on Ukraine.
Ukrainian Foreign Minister Dmytro Kuleba said this at a joint briefing with Foreign Minister of the Republic of North Macedonia Bujar Osmani in Kyiv on Friday, May 27, according to an Ukrinform correspondent.
Kuleba stated that Russia is currently conducting a large-scale offensive operation in the Donbas, trying to seize Ukrainian territory, and is carrying out a gradual annexation of the Kherson and Zaporizhzhia regions.
"I do not think that a country seeking a negotiation process would act in this way. If Russia wanted negotiations, it would not conduct offensive operations, persecute Ukrainian activists in eastern and southern Ukraine, or try to put Russian roubles and phone numbers into circulation there and to issue passports there. It would not block Ukrainian seaports to hinder food exports. It is a language of facts, not interpretation," Kuleba said.
He noted that Russian officials continue to claim in the media that they are open to negotiations, and Ukraine avoids them, but this is not true.
"If you look at the facts, none of them indicate that Russia really wants to find a solution, to negotiate," Kuleba said.
In this context, he noted that he could not predict when a meeting between the presidents of Ukraine and Russia could take place.
"We've tried to organize this meeting many times, but we haven't received any positive indications from Russia regarding their readiness for [this meeting]. From what we know, President Putin is more determined to wage war than to hold negotiations. Therefore, it is difficult for me to say when this meeting will take place," Kuleba said.
As was reported earlier, Russian Foreign Minister Sergei Lavrov said that the West allegedly deliberately encouraged President Volodymyr Zelensky to be adamant in negotiations with Russia and slow the process of reaching an agreement.