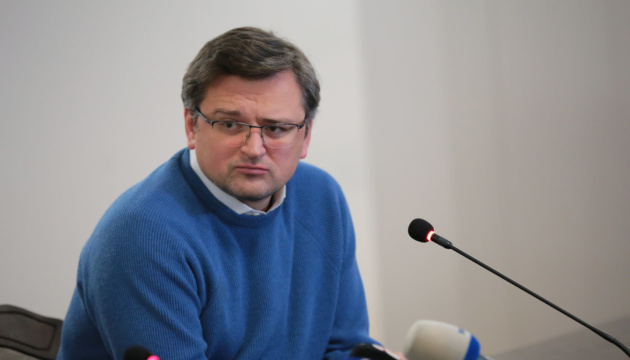 Kuleba says Russia trying to pit Africa, Middle East, Asia against Ukraine
Minister for Foreign Affairs of Ukraine Dmytro Kuleba spoke about the narratives directed against his country that Russia is actively spreading among its sympathizers.
He stated this during a live briefing on Facebook, an Ukrinform correspondent reports.
According to the Minister, the first narrative is that Ukraine's resistance is futile so the country should harbor no hope for anything good because, in the end, the West will abandon it. Narrative 2 is that Ukraine has shifted the world's attention from addressing other problems, while the West has focused on helping Ukraine, instead of solving all other issues and treating everyone equally.
"In this way, the Russians are trying to pit Africa, the Middle East, and in part Asia against Ukraine, against our partners, claiming that we discriminate them in some way," the top diplomat said.
Kuleba has stated that the authorities will address this argument very seriously because, despite its absolute groundlessness, "it is making its way through." At the same time, in the minister's opinion, it testifies to the effectiveness of the government, which has managed to draw international attention to the war Russia is waging and mobilize support on the part of the West.
Narrative 2, the minister said, was that the only problem with the world's food crisis is related to sanctions imposed on Russia, this way demanding that these restrictions be lifted. In this regard, Ukraine responds that the only reason behind the food crisis is Russian aggression against Ukraine, not sanctions.
In addition, the minister noted that he clearly sensed in various conversations the following thesis: "Why is Ukraine so desperately resisting, causing such unfathomable suffering to its own people and country? If the war is so difficult, if everything is so complicated, you must sit down and negotiate. You need to negotiate with Russia, whatever the price of the agreement."
He referred to the comment as really "painful" because it does not respect the sacrifice made by the Ukrainian people in the war, fighting for their freedom.
"I don't want you to have the impression that these are mainstream, dominant thoughts. No, they're not mainstream. These are the narratives that Russia is starting to spin more and more. And some do pick them up," Kuleba said.
As Ukrinform reported earlier, on May 25, Foreign Minister Kuleba said Ukraine would not make concessions to Vladimir Putin because the strategy of appeasing him, applied from 2014 to the beginning of a full-scale invasion had already failed and no longer has any chance of success.