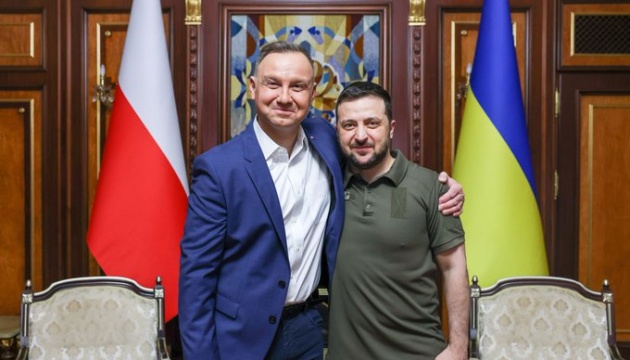 President Zelensky announces special status to Poles in Ukraine
Ukrainian President Volodymyr Zelensky is planning to submit a draft bill to the Verkhovna Rada of Ukraine on the status and assistance to Polish citizens in Ukraine, which is similar to the one, which has recently been endorsed by the Sejm of the Republic of Poland in relation to Ukrainians.
The relevant statement was made by Ukrainian President Volodymyr Zelensky during his speech in the Ukrainian parliament in the presence of Polish President Andrzej Duda.
The full text of the speech was posted by Deputy Head of the Office of the President of Ukraine Andrij Sybiha on Facebook, an Ukrinform correspondent reports.
"I particularly thank the Sejm of the Republic of Poland for the law on assistance to Ukrainian citizens, which has been adopted recently. This is an unprecedented decision, according to which our citizens, who have been forced to flee to Poland due to the Russian aggression, will be granted almost the same rights and opportunities as Polish citizens. Legal residence, employment, education, health care and social benefits. It is a great step and a gesture of the great soul, which only a good friend of Ukraine could have made. This step will not remain unilateral. In the near future, I will submit a similar – mirror – draft bill to the Verkhovna Rada of Ukraine," Zelensky told.
Meanwhile, the President of Ukraine expressed hope that Polish citizens would never face a situation, where they need such benefits in such conditions, in the conditions of the war.
"But, such laws have a great symbolic significance, showing that Ukrainians and Poles are native and equal. I am confident the Ukrainian Members of Parliament will endorse this law, fast and by a majority of votes," Zelensky stressed.
A reminder that Polish President Andrzej Duda is paying a visit to Ukraine on May 22, 2022.
Photo: Andrij Sybiha
mk