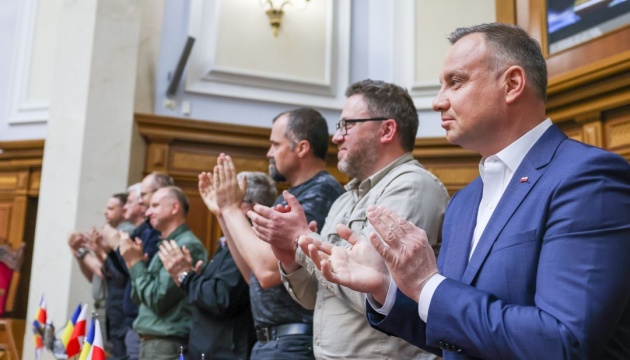 President Duda in VR: It is time to sign a new neighborhood agreement with Ukraine
Considering the friendly relations between Warsaw and Kyiv, which became especially prominent amid Russia's full-scale war against Ukraine, it is time to sign a new neighborhood agreement between Ukraine and Poland.
The relevant statement was made by Polish President Andrzej Duda during his speech in the Verkhovna Rada of Ukraine on Sunday, an Ukrinform correspondent reports.
"I strongly believe that the time has come to sign a new neighborhood agreement, which would cover what we have built in our relations at least in recent months," Duda told.
In his words, the Russian armed aggression has shown that the network of road, rail and infrastructure connections between Ukraine and Poland is not sufficient.
According to Duda, it is necessary to make up for this, and the Polish-Ukrainian border should not divide but unite.
The President of the Republic of Poland suggested that fast railway connection between Kyiv and Warsaw would be a sign of good relations between Poland and Ukraine.
"We will build it together," the Polish leader stressed to the applause of Ukrainian Members of Parliament.
A reminder that Polish President Andrzej Duda is paying a visit to Ukraine on May 22, 2022. As part of the visit, he will meet with Ukrainian President Volodymyr Zelensky. The delegations of the two countries will also hold talks.
Photo: Andrij Sybiha
mk