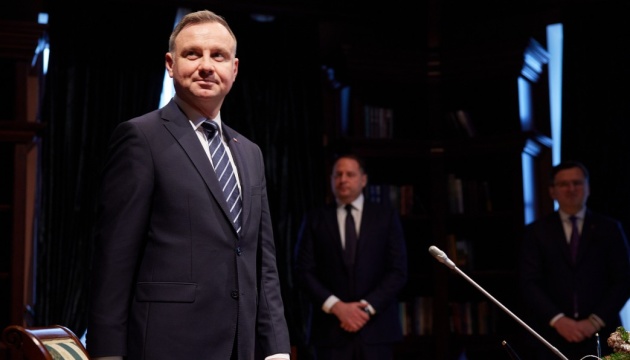 Polish president to address Ukrainian parliament
Polish President Andrzej Duda has arrived in Ukraine and is expected to deliver an address in the Verkhovna Rada on Sunday, May 22.
That's according to the official website of the President of the Republic of Poland, Ukrinform reports.
"President Andrzej Duda is in Ukraine. On Sunday, in the Verkhovna Rada in Kyiv, the President of the Republic of Poland will deliver his message as the first head of a foreign state since the outbreak of the war [since February 24]," the statement said.
In a recent interview with Polska Times, Duda expressed the view that Russia's war against Ukraine should end with the return of all occupied territories to Kyiv. He called it an extremely important issue for himself, for Poland's security and for the future.
Duda also noted that he has very good personal relations with Ukrainian President Volodymyr Zelensky.
According to the Polish leader, in the first days of the war he feared for Zelensky's life, so their conversations in those days were daily.
Russia has been waging a large-scale war against Ukraine since February 24.
Photo: President's Office