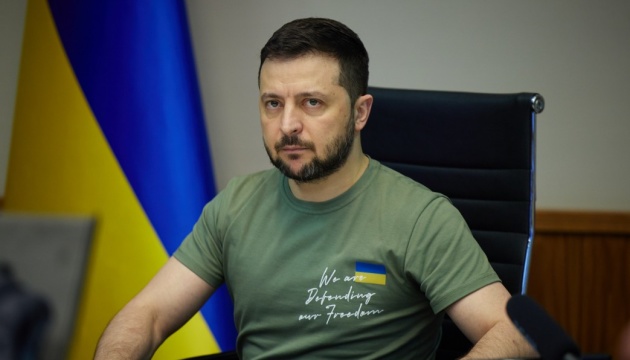 Zelensky: Price of Ukraine's independence is tens of thousands of lives
Ukrainians will defend their independence, but they must always remember that it costs tens of thousands of lives, President Volodymyr Zelensky has said.
He said this in his address to the students and rectors of higher educational institutions in Ukraine, according to an Ukrinform correspondent.
"I have no doubt that we will gain independence. And it will be in our history the same as in other countries that fought for independence and won. Countries that ceased to be beggars and became subjects. The real masters of their lives and their future. But we must remember now and always that the price of all this is tens of thousands of lives. The lives of all those killed by the enemy. Tens of thousands. For independence. And for the opportunity for each of you to choose how to live and which Ukraine to live in," Zelensky said.
Zelensky also asked a number of questions to students, among them "What should our state be like?"; "Should there be a universal military obligation in Ukraine for all boys and girls, as is the case, for example, in Israel, so that all our people can defend themselves when needed?"; "Which countries do you see among the possible guarantors of security for Ukraine?"; "Is there a need for the order of possession of firearms by ordinary people?"; "How do you see coexistence with the Russian Federation and its citizens after the war?"; "Could there be what they call the word "relationship" between Ukrainians and Russians?" etc.
On February 24, Russian President Vladimir Putin announced the beginning of a full-scale invasion of Ukraine. Russian troops are shelling and destroying critical infrastructure and shelling residential areas of Ukrainian cities, towns and villages. The Russians staged terror in the temporarily occupied territories. Ukraine's defense forces oppose Russian troops and inflict heavy losses on them. According to the General Staff, the Ukrainian Armed Forces eliminated about 28,500 Russian invaders from February 24 to May 19.
Photo: President's Office