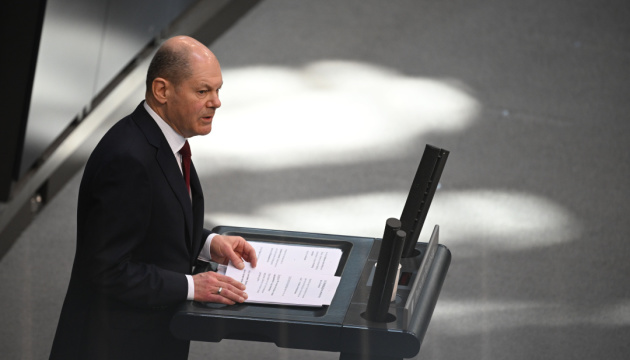 Scholz: No shortcuts to European Union
Germany and other EU member states will support Ukraine in its European integration aspirations, but there are procedures that cannot be bypassed or accelerated.
German Chancellor Olaf Scholz made a corresponding statement, speaking at the Bundestag on Thursday, an Ukrinform correspondent reports.
Scholz recalled his own words that "Ukraine is a part of our European family." But, he noted, President of France Emmanuel Macron was right when he said that the membership process was long and could take many years.
"There are no shortcuts to the European Union," Scholz said, adding that it would be unfair in relation to the Western Balkan countries which have been waiting for joining the EU for several years.
At the same time, Scholz pledged to provide Ukraine with all possible support on its European integration path, in particular with regard to strengthening the system of governance and democracy.
"We need to focus now on how to support Ukraine pragmatically and quickly," the Chancellor said, adding that the EU leaders would consult on how to do so, including at next week's summit.
He noted that Ukraine had submitted an application and the European Commission should make an assessment at the end of June.
In his speech, Scholz also noted that Ukraine would need billions of euros in reconstruction aid after the war. Europe is ready to help, he said, stressing the need to establish a solidarity fund.
The German Chancellor also drew attention to the profound consequences of the Russian war which go far beyond purely security aspects. These include the global rise in prices, the energy crisis and looming food crisis, and so on.
The politician touched separately on the issue of Europe's energy security against Russian energy sources and from fossils in general, achieving the goals of climate neutrality. He pointed out the need for trans-European energy routes in this context.
"I warned at the beginning of the war that the consequences of the war would affect us as well. But I am convinced we will overcome them. We are a strong country with strong allies. We know that we defend peace, freedom, and law," Scholz said.
As reported, Minister of Foreign Affairs of Ukraine Dmytro Kuleba stated that the strategic ambiguity on Ukraine's European perspective must end.
Speaking at the closing ceremony of the Conference on the Future of Europe at the European Parliament in Strasbourg on May 9, Macron said that "it would in reality take several years, and most likely several decades" for Ukraine to join the European Union and suggested that an alternative to European integration – the so-called "European political community" – should be created for Ukraine and other EU neighbors.
ol