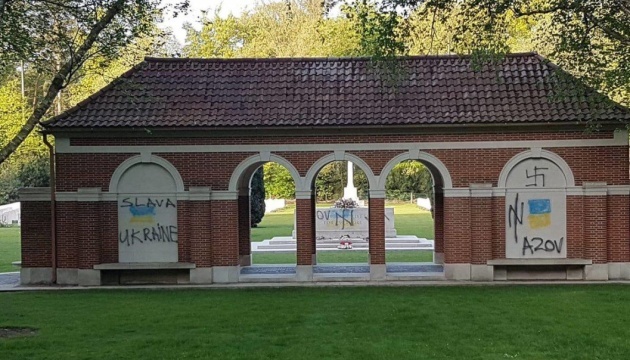 Ukrainian Foreign Ministry condemns act of vandalism at memorial in Netherlands
The Ukrainian Foreign Ministry has condemned an act of vandalism committed at the Yonkerbos War Cemetery in the Dutch city of Nijmegen.
The ministry said this in a statement released on Twitter, Ukrinform reports.
"We strongly condemn the act of vandalism committed on the Jonkerbos War Cemetery in Nijmegen, the Netherlands. We consider this act a brutal insult to the memory of the victims of the Second World War and a provocation, including against Ukraine," the statement said.
In the Netherlands, unidentified individuals staged a provocation and committed an act of vandalism at the Yonkerbos War Cemetery in Nijmegen.
Russian propagandists blamed the Azov Regiment for the act, claiming that vandals spray painted Azov symbols and the Ukrainian flag there.
Maksym Zhorin, former commander of the Azov Regiment, denied involvement in the vandalism and said representatives of the movement condemn any damage to World War II monuments.
According to Zhorin, the purpose of this vandalism is obvious - to settle the conflict and quarrel the peoples.
Every year on May 5, the Netherlands celebrates Liberation Day.
Photo: Ukrainian Foreign Ministry