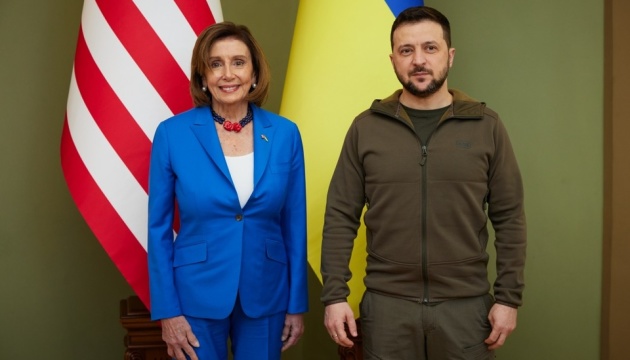 Zelensky, Pelosi meet in Kyiv
President of Ukraine Volodymyr Zelensky on Sunday met in Kyiv with U.S. House Speaker Nancy Pelosi, who arrived in Ukraine on a visit.
This was reported on the website of the President's Office, Ukrinform reports.
The head of state thanked the speaker for the visit.
"I am grateful to you for this signal of strong support from the United States, the people, and Congress — bicameral and bipartisan support. I highly appreciate this signal as President, as do our team and the people of Ukraine. This shows that the United States today champions strong support for Ukraine in the war against Russian aggression," he said.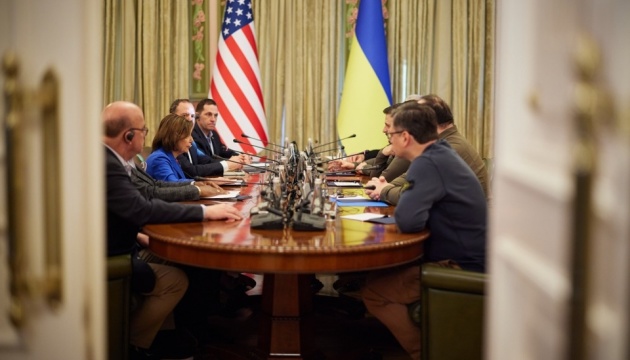 The president thanked the United States and Nancy Pelosi personally for the efforts to protect the sovereignty and territorial integrity of Ukraine.
"The signals that the United States and President Biden are sending today are very important. These are recent strong steps in defense and financial support for Ukraine, as well as decisions on lend-lease – we are grateful for that," said Zelensky.
He stressed the importance of the address by President of the United States of America Joseph Biden made to Congress, asking to provide Ukraine with financial assistance in the amount of US$33 billion.
For her part, Pelosi conveyed greetings from U.S. Congress and the people of the United States to the president of Ukraine. Nancy Pelosi noted that today Ukraine is heroically fighting for freedom, and the United States is ready to help the country until this fight is over. According to her, Ukraine is the frontier of freedom.
President Volodymyr Zelensky awarded the Speaker of the U.S. House of Representatives the Order of Princess Olha for her significant personal contribution to strengthening Ukrainian-American interstate cooperation and supporting sovereign, independent, and democratic Ukraine.
As Ukrinform reported, on April 27, the U.S. House of Representatives passed a number of decisions in support of Ukraine, including an act allowing seizure of Russian sanctioned assets. In addition, an act on transatlantic telecommunications security was passed. It envisages support for Ukraine's integration into European telecommunications networks. Separately, Ukraine's allies in Washington are preparing and already implementing initiatives to locate and freeze the assets of Russian oligarchs, including beyond the United States.