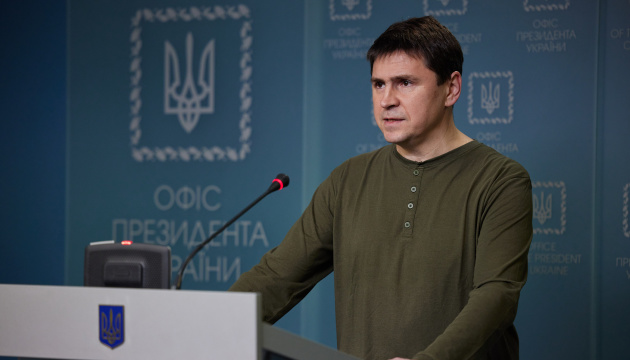 Ukraine not discuss lifting sanctions with Russia – Podoliak
Lifting international sanctions against the Russian Federation is not part of peace talks between Ukraine and Russia.
The relevant statement was made by Advisor to the Head of the Office of the President of Ukraine Mykhailo Podoliak in a commentary to the mass media, an Ukrinform correspondent reports.
"Definitely, the issue of global international sanctions against Russia is not part of talks at all. The reasons for the international community to introduce them have not yet been eliminated, namely the occupation of some parts of Ukraine's territory and the treacherous violation of Ukraine's territorial integrity and sovereignty. And, of course, sanctions cannot be discussed with Ukraine without the involvement of all other countries, as they had been introduced by the entire civilized world in response to Russia's absolutely barbaric behavior," Podoliak told.
In his words, it is up to international partners, together with Ukraine, to decide when and what decisions on sanctions to make.
Podoliak also stressed that Russian Foreign Minister Sergei Lavrov had never been present at the negotiating table, either personally or online.
"Therefore, his tendency to comment on something he has not participated in or some process he has not seen from inside is somewhat surprising," Podoliak added.
According to Podoliak, the Russian army has already 'discussed' such issues as 'denazification' and 'the Russian language' with Ukrainians in Bucha, Hostomel, Kharkiv, Volnovakha and Mariupol. The relevant conclusions will forever stay in the history, inscribed with the blood of innocent Ukrainian civilians, Podoliak said.
"Hence, I once again urge the representatives of the Russian Federation to refrain from commentaries, which are misleading and do not meet the real course of the negotiation process," Podoliak stressed.
A reminder that Russian Foreign Minister Sergei Lavrov stated earlier that lifting sanctions against the Russian Federation was part of peace talks between Russia and Ukraine.
mk