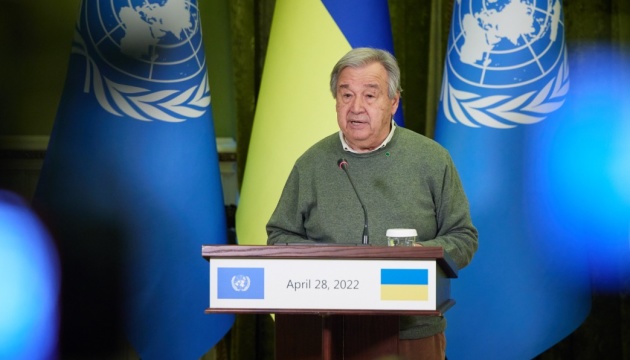 UN Secretary General "shocked" by missile strikes on Kyiv - journalist
UN Secretary General Antonio Guterres is shocked by Russia's missile strikes that hit Kyiv during his visit to the city.
That's according to BBC journalist Ben Brown, Ukrinform reports.
"UN Secretary General tells me he's shocked by Russia carrying out a missile attack on Kyiv while he's on the city for talks with President Zelensky. Ukraine calls it a 'heinous act of barbarism' - and a 'postcard from Moscow,'" Brown tweeted.
On April 27, Guterres arrived in Moscow for talks with President Vladimir Putin. The next day, Guterres came to Ukraine. Among other things, he made a visit to the town of Borodianka, Kyiv region, which was gravely affected by the Russian invasion.
As reported earlier, a 25-storey apartment block was damaged in a Russian missile strike on Kyiv April 28. At least ten people were hurt in the attack.
Photo by the Ukrainian President's Office