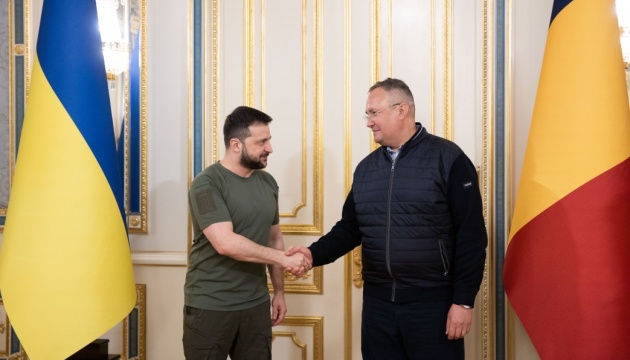 Zelensky, Romanian PM hold talks in Kyiv
President of Ukraine Volodymyr Zelenskyi met with the Prime Minister of Romania Nicolae Ciucă, who was on a Kyiv visit April 26.
"Your visit is an important, clear signal of support for Ukraine in the war against the Russian Federation," the president stressed, according to his press service.
The Ukrainian leader briefed his interlocutor on the situation at the front line and the heroic defense of Mariupol.
Volodymyr Zelensky especially thanked the Romanian government for the assistance it provides to Ukraine's defense forces.
During the discussion of the issue of countering Russian aggression, it was noted that one of the critical elements of such efforts is the sanctions pressure on the aggressor, which needs to be strengthened and which should become a key element in coercing Russia to peace.
"Thank you for your clear position on the sanctions policy against the Russian Federation during the war it unleashed against our territory," the president said.
Volodymyr Zelensky expressed his conviction that the next, sixth, package of EU sanctions against Russia should contain truly effective solutions, especially in the energy sector.
The president praised Bucharest's assistance in organizing a critical transit to Ukraine of international humanitarian aid, the goods the country needs, as well as energy resources. Further steps were agreed to deepen such cooperation.
To this end, it has been agreed to soon hold a separate meeting at the ministerial level.
The head of state noted Romania's readiness to join Ukraine's post-war development.
The European integration agenda was discussed separately. Volodymyr Zelensky thanked Nicolae Ciucă for Romania's clear support for the Ukrainian people's aspiration to become a full member of the European family as soon as possible. An important component of the common European future will be the absolute protection and development of national minorities – the Ukrainian community in Romania and the Romanian community – in Ukraine.
The parties also discussed other topical issues on the agenda, and touched upon regional issues.
Following the talks, the president expressed his conviction that Ukraine and Romania should reach a new level in all key areas of bilateral relations.