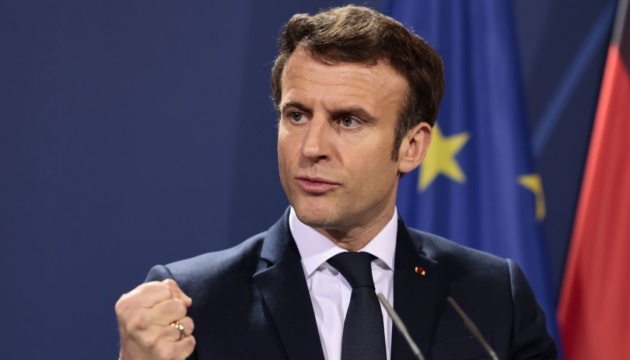 France to toughen sanctions against Russia after Macron re-election
France will increase sanction pressure on Russia, but the government must be transparent with the French people, explaining the implications affecting their lives.
This was stated by Secretary of State of the Ministry of Europe and Foreign Affairs of France Clement Beaune, who spoke with CNN's Christiane Amanpour.
Asked whether re-elected President Emmanuel Macron would be able to maintain public support if he continued to tighten sanctions against Russia because it affected people's well-being, Beaune said the situation was not an easy one to address.
He noted that sanctions cannot but have an impact on the lives of the French citizens, but still, Russia sanctions must be strengthened.
"What we have to do is to increase the sanctions because the war is still going on – we cannot abandon or withdraw from this. And we have to protect poorest people in particular against these increased food prices, energy prices. So we have to be very transparent and very clear: we will protect them, but it's not true that you can have easy situation in which we put pressure against Russia and have no impact on your own," Beaune said.
According to the official, Macron has clearly laid this down at the very beginning of Russia's full-scale invasion of Ukraine.
"It will have an impact. We will manage it. We will try to mitigate it, but we cannot say that the war has no price," said Beaune.
As Ukrinform reported earlier, after all votes were processed in the runoff of the French presidential election, the incumbent president, Emmanuel Macron, is winning, being 17.1% ahead of rival, Vladimir Putin's favorite Marin Le Pen.
On February 24, Russian President Vladimir Putin launched a full-scale invasion of Ukraine. Russian troops have been destroying Ukrainian infrastructure, massively shelling residential areas of Ukrainian cities and towns using artillery, MLR systems, and ballistic missiles.
The United States, the European Union, and other democracies have imposed sanctions against the aggressor power, whose international isolation is growing by the day.
Many companies have announced withdrawal from the Russian market and quit joint projects with the Russian counterparts.
The EU leadership is working on imposing an embargo on Russian petroleum products, which will be one of the strongest blows to the Russian economy, which has already suffered significantly from sanctions introduced over the war in Ukraine.