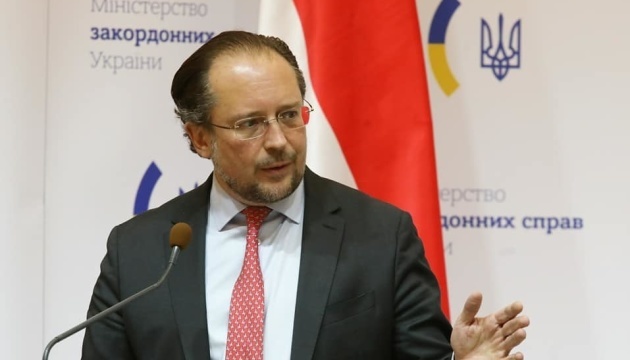 Ukraine disappointed with Schallenberg's statement about its European future
The Ukrainian Foreign Affairs Ministry has been disappointed with a statement made by Austrian Foreign Minister Alexander Schallenberg about Ukraine's European future.
The relevant statement was made by Ukrainian Foreign Affairs Ministry Spokesperson Oleg Nikolenko in a commentary to Ukrinform.
"We consider it [statement – Ed.] to be strategically short-sighted and not in the interests of the united Europe. Such statements also ignore the fact that the vast majority of the population of the EU founding member states support Ukraine's membership," Nikolenko said.
In his words, Ukrainian Foreign Minister Dmytro Kuleba has already noted that the Ukrainian people are paying a high price for the mistakes made by many European governments. Their biased perception of reality has already led to Europe's political and economic weakening, and enabled Russia to undermine stability in the EU and implement hybrid aggression against European countries, Nikolenko stressed.
"It seems that the current war, casualties and destructions are not enough for them. Postponing Ukraine's EU membership under various excuses or seeking an alternative means indulging Putin's aggressive plans and slowing down EU's strengthening with Ukraine's capabilities," Nikolenko noted.
According to Nikolenko, Ukraine has every reason to demand that its merits and the strategic role for the EU are recognized objectively.
"Thanks to the indomitable will and courage of the President of Ukraine and the Ukrainian people, Europe can live in peace now. Without exaggeration, our state has become an outpost for the protection of EU security, European freedom and European values," Nikolenko stressed.
A reminder that, during a European media summit in Lech am Arlberg, Austrian Foreign Minister Alexander Schallenberg stated that Ukraine should not receive EU candidate status this June and should not be offered EU membership.