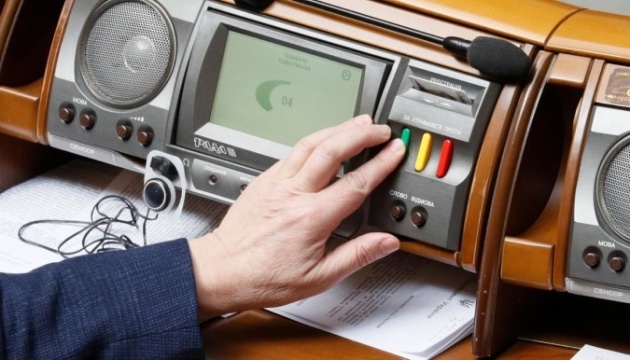 VR calls on international community to recognize Russia's actions in Ukraine as genocide
The Verkhovna Rada of Ukraine has endorsed the Declaration "On the Genocide Committed by the Russian Federation in Ukraine".
A total of 363 members of Parliament voted in favor of relevant resolution No. 7276, an Ukrinform correspondent reports, referring to the statement made by MP Yaroslav Zhelezniak on Telegram.
According to the Resolution, it will be the first step towards exposing the true intent of the Russian Federation and its actions aimed at the destruction of the Ukrainian nation during the armed aggression of the Russian Federation against Ukraine and bringing this information to the international community in order to ensure the prosecution of all the perpetrators.
"There are also numerous cases of forcible transfer of thousands of people, including children, belonging to the civilian population of Ukraine to the territory of the Russian Federation or the territories temporarily occupied by it. The forced expulsion and relocation of Ukrainian citizens en masse, as is the case with the residents of Mariupol, also proves the intent to destroy the Ukrainian nation by ending its existence in certain areas. The forcible transfer of Ukrainian children to the territory of the Russian Federation and their relocation to an alien environment testifies the intent to annihilate their self-identification as Ukrainians. There are numerous instances of causing serious physical and mental harm to the representatives of Ukrainian public authorities and local self-government, representatives of non-governmental organizations and other local activists, journalists, clergy and other authoritative figures in Ukrainian society. Such actions are aimed at suppressing and destroying the elite of the Ukrainian nation," the Resolution reads.
The purpose of the Declaration is to recognize the actions committed by the Armed Forces of the Russian Federation and its political and military leadership during the most recent phase of the military aggression of the Russian Federation against Ukraine, which started on February 24, 2022, by the Verkhovna Rada of Ukraine as an act of genocide against the Ukrainian nation.
The Verkhovna Rada of Ukraine also appealed to the United Nations, the European Parliament, the Parliamentary Assembly of the Council of Europe, the OSCE Parliamentary Assembly, the NATO Parliamentary Assembly, and governments and parliaments of foreign states to recognize the genocide of the Ukrainian nation committed by the Russian Federation, as well as crimes against humanity and war crimes committed on the territory of Ukraine.
A reminder that, on February 24, 2022, Russian President Vladimir Putin initiated a full-scale invasion of Ukraine, starting a war. Russian troops are shelling and destroying the key infrastructure facilities, launching missile and air strikes on Ukrainian cities and villages, torturing and murdering civilians.
mk