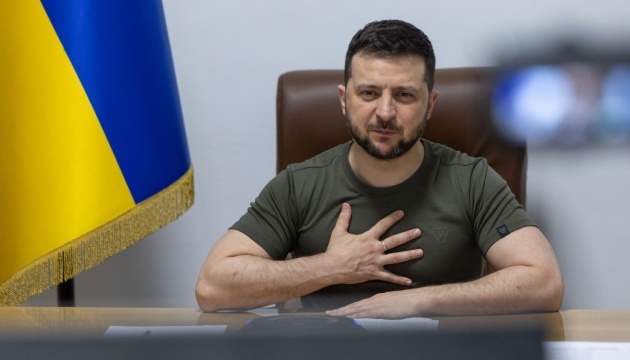 President Zelensky honors memory of Smolensk air disaster victims
Ukrainian President Volodymyr Zelensky has honored the memory of the victims of the Smolensk air disaster and expressed solidarity with Polish partners, who are standing with Ukraine against the Russian aggression.
The relevant statement was made by Ukrainian President Volodymyr Zelensky on Twitter, an Ukrinform correspondent reports.
"Today, we honor the memory of the victims of the plane crash near Smolensk, which took the lives of President Lech Kaczyński and Polish elite representatives 12 years ago. Today, we stand in solidarity with Polish friends and allies, who stand with Ukraine against the Russian aggression," Zelensky wrote.
Ukrainian Defense Minister Oleksii Reznikov also expressed his condolences to Poland, which lost one of its best sons and daughters in the Smolensk air disaster 12 years ago.
"Ukraine knows from its own experience what the pain of loss is. And how important is the support of a friend at such a time. President Kaczynski was a true friend of Ukraine. Our pain is shared. And today, when Ukraine is heroically repelling the Russian aggressor, Poland is not standing aside. The hospitable reception of our refugees, military aid and sanctions pressure on Russia are concrete manifestations of the Polish-Ukrainian union. This unity is our common strength," Reznikov wrote.
In addiiton, Verkhovna Rada Chairman Ruslan Stefanchuk commemorated the 12th anniversary of the Smolensk air disaster.
"96 persons died. Among them, Polish President Lech Kaczyński and his wife Maria. We remember, Polish brothers… Your grief is our grief. Now it will always be so. April 10, 2010," Stefanchuk wrote.
One of the 96 victims of the Tu-154M plane crash was Anna Walentynowicz, a Ukrainian by birth, an active member of the Polish Solidarity movement and the anti-communist opposition.
A large delegation traveled to the Katyn Forest to participate in memorial events dedicated to the 70th anniversary of the execution of the Polish military by the Soviet punitive and repressive authorities in 1940. For many years, this crime was carefully concealed by the top leadership of the USSR. And in today's Russia there is a powerful movement that denies the responsibility of Stalin's totalitarian regime and/or even the fact of executions, Reznikov noted.
mk